This article on 'Career options after LLM for a Law student in India?' was written by Pramod Sanap, an intern at Legal Upanishad.
Introduction
In every nation, the legal profession is among the most lucrative. After earning their LLBs, law students have the choice of whether to begin practicing or obtain a master's degree in the subject. A master's program in law is an advanced degree in the study of law. It is available in several disciplines, including corporate law, criminal law, and international law. Students have the privilege of looking for employment across a wide range of industries that are relevant to their field of concentration.
Equal opportunities arise upon LLM graduation in the public and commercial spheres. Students who obtain an LLM can work as a lawyer or advocate, legal counselor, law enforcement official, etc. With so many alternatives, students frequently struggle with the decision of what to do following their LLM.  
Masters in Law/ LLM
Today's environment needs degree programs that are skill- and knowledge-based. Since the LLM is a professional degree that offers knowledgeable and topic-focused instruction, there are more options available following it. The majority of law school graduates get their LLM and receive a comparative benefit over other applicants, particularly if they decide to focus on a subject that is expanding and developing, like the Financial and Corporate Sectors.
There are numerous employment prospects in the legal profession in the public and commercial spheres following earning the degree. These two industries employ LLM graduates with in-depth topic expertise. Instead of entering the corporate sector, an LLM graduate may choose to start a freelancing legal practice.  
Since the LLM is a specialist degree that offers expertise and specific topic education, there are more opportunities following it. Unquestionably, an LLM education is essential for establishing a prosperous and successful future. Numerous enterprises, including media and publishing companies, courts, NGOs, FMCG, property investment, legal firms, consultancies, the banking industry, large corporations, and international organizations like the UN, and UNICEF, among others, are eager to employ LLM students. A student of an LLM program also has the choice to start an independent legal practice.
For a competent LLM student, the public sector offers several prospects. A magistrate, judge, counsel, or state prosecutor might be such a person. After completing the Judicial Services Tests or some other pertinent test, also exists the opportunity of starting a career as a teacher in both private and public colleges.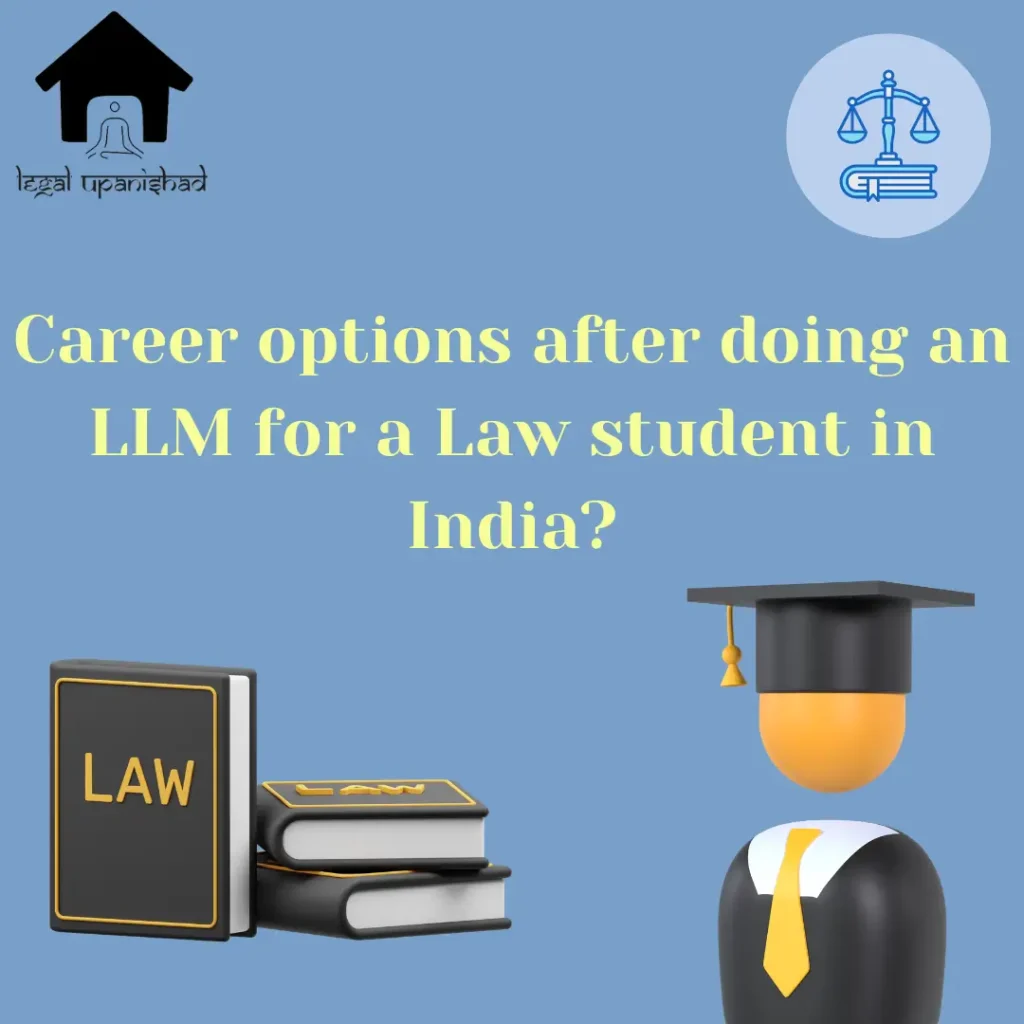 Career options after LLM
After obtaining an LLM, one can pursue the following careers:
Legal Consultant: Court partners or cohorts provide assistance with contract summaries, legal research, drafting, and contract management. One will succeed as a legal counselor if they are a specialist in their field. 
Attorney: Both in India and overseas, a counselor is a vital expert. He has to be properly informed about the nation's legal system in order to effectively carry out his responsibilities.
Judge: Among the most prestigious posts in each and every nation's judicial system is that of a judge. To serve as a judge, someone needs to have a very strong background in the nation's legal system.
Notaries: Notaries are another name for a notary. The notary is a court-appointed, professionally qualified jurist who has been given the State's or the federal state's seal of approval. They or she is in care of all administrative issues that impact the government. 
Law Examiner: An evaluator or an equivalent might talk about and assess various legal records. review of a court file Legal supporting materials and opinions are needed for this.
Trustee: The trustee has the trustee's ethical obligation to keep the property in excellent shape for a specific cause.
Oath Commissioner: The "oath commissioner" is another name for the oath officer. A freshly qualified attorney appointed in accordance with the law by the High Court Registrar will perform the assignment.
Some other options
Tax advocates: They handle all types of governmental taxation, such as sales taxes, excise taxes, and income taxes.
Corporate attorneys: Their duties include managing the legal affairs of corporations, creating and keeping businesses, engaging in various government contracts and acquisition agreements, and establishing other claims and decrees.
International attorneys: They engage with standards & international relationships between nations and provide advice on programs and agreements for public and commercial organizations.
Civil Counsel: Settlements involving persons, disputes, debts, guardianships, custody battles, and fault lawsuits are facilitated by attorneys.
Depending on one's interests and degree of experience, there are several criminal lawyer profession profiles accessible. The following list of responsibilities for criminal attorneys includes some of these:
Officers in charge of parole and probation have comparable duties. Unlike parole officers, who deal with criminals who have already served jail time, probation officers work with offenders who have been found guilty but are on probation, preventing them from serving time in prison. The primary distinction between the two is this. The two often meet with offenders and assist them in finding housing, employment, or, if required, mental health care. Additionally, they collaborate with offenders to develop a plan for reintegrating them into society.
Conclusion
Law is a vast and diverse field of study that covers various types of subjects which are necessary to maintain and regulate aspects of human activities in a vast society. Expertise in any particular subject in law gives an edge over others in work, knowledge, and expertise. The LLM provides specialized knowledge regarding a particular subject in the vast spectrum of law and this specialized knowledge increases one's understanding of that particular subject in law. The enhanced understanding of the subject does give an edge over others in that particular field and increases one's prospects in that field.
As aforesaid, the opportunities of an LLM degree provides to law graduates in India are innumerable and this opens new gates for a law graduate to do specialized work.
References