This article on 'Procedure for registering a coaching centre in India' was written by an intern at Legal Upanishad.
Introduction
With an increasing population, Indians confront a variety of difficulties daily. An ordinary parent's chief worry is whether one's child is going to pass the admissions quiz for one's desired field. With increased school contests, evaluation panels have really no choice except to start raising the bar in terms of the level of difficulty in order to guarantee that the brightest students are chosen for enlistment in their own schools.
Each educator aspires to be doing his or her best and get the highest possible grade. Even so, this isn't an easy process and, in most instances, is not attainable without the guidance and assistance of a knowledgeable and experienced tutor. This article focuses on the procedure for registration of coaching institutes, etc.
Registration of Coaching Center
Coaching Institutes have begun to grow to become a crucial component of today's system of education. Coaching centre popularity has increased by 33% over the past 4 to 5 years. It is anticipated that approximately 95% of students in high school enrolled in coaching classes for the majority of topics. It should be acknowledged that if you intend to start a limited spectrum coaching centre, you do not require a license and can operate it from your home.
Nevertheless, if one's coaching centre aims to grow to a size of an organization, one will need to obtain a business license and pay the taxes just on revenue earned by the centre. If indeed the earnings or revenue surpasses nine lakhs annually, enrollment in the mentoring company becomes mandatory, and provider tax must be paid in less than thirty days. The framework one wants to use will determine how one registers one's company. The 3 main possibilities that may be accessible are:
Employer
Sole proprietorship
Partnership
Coaching Centre Stores and Institution Permit
The enterprise operations that we wish to access as a sole proprietorship, partnering, or employer each possess their own collection of registration laws, but one point that all 3 have in prevalent seems to be the Shop and Established license that's also granted by the investigator of that area. One cannot access any type of coaching business in the region without such a license, and when one does, one would be prosecuted.
All kinds of coaching businesses that one intends to start must be enrolled with the surveyor of that area under the Shops and Establishments Act. This authorization must be finished within one month of establishing the coaching centre, and this declaration must be given to the investigator of the location or area wherein you intend to access a coaching centre.
The declaration that will be sent to the surveyor will contain the following information:
The declaration should include the following information: the title of the contractor who will be actually employed in one's coaching centre,
It ought to also include the name and location of the mentoring corporation, as well as the postal address of such a coaching centre.
It should include the classification of a coaching centre wherein one intends to maintain one's firm.
The declaration must also include the number of individuals utilized throughout the coaching centre that one intends to expand.
It is also necessary to specify the launch date of the founded coaching centre.
The documents listed below are required for enrollment under this act:
Promotional Address Proof of that individual who is really going to open a coaching centre since if that firm is misused, man could be traced all the way back to that location.
Identification proves of the individual directing the mentoring or the individual starting the coaching business,
The Pan Card of the person who intends to start a coaching centre,
Challan for Fee Payment
The computation fee for this license is generally between 125 rupees to 12,500 rupees relying upon the number of staff and manpower one of these is going to employ for the company.
If all the data in the implementation is acknowledged, a license would be fast manner.
Acquiring a Coaching Center Business Permit
A trade license or a business license is an authorization or license granted by government officials that allow businesses or individuals to continue to do business inside the government's legal boundaries.
Essentially, it means allowing somebody who wants to establish a coaching centre to accomplish this lawfully, and when he does it unlawfully, he will be brought to trial by the legislation. Why else do trade licenses vary between countries, nations, and city governments? How does it do this? It does this because each physical position, as well as authority, frequently necessitates its own individual localized license in order to collect the various taxes imposed within the asserted authority.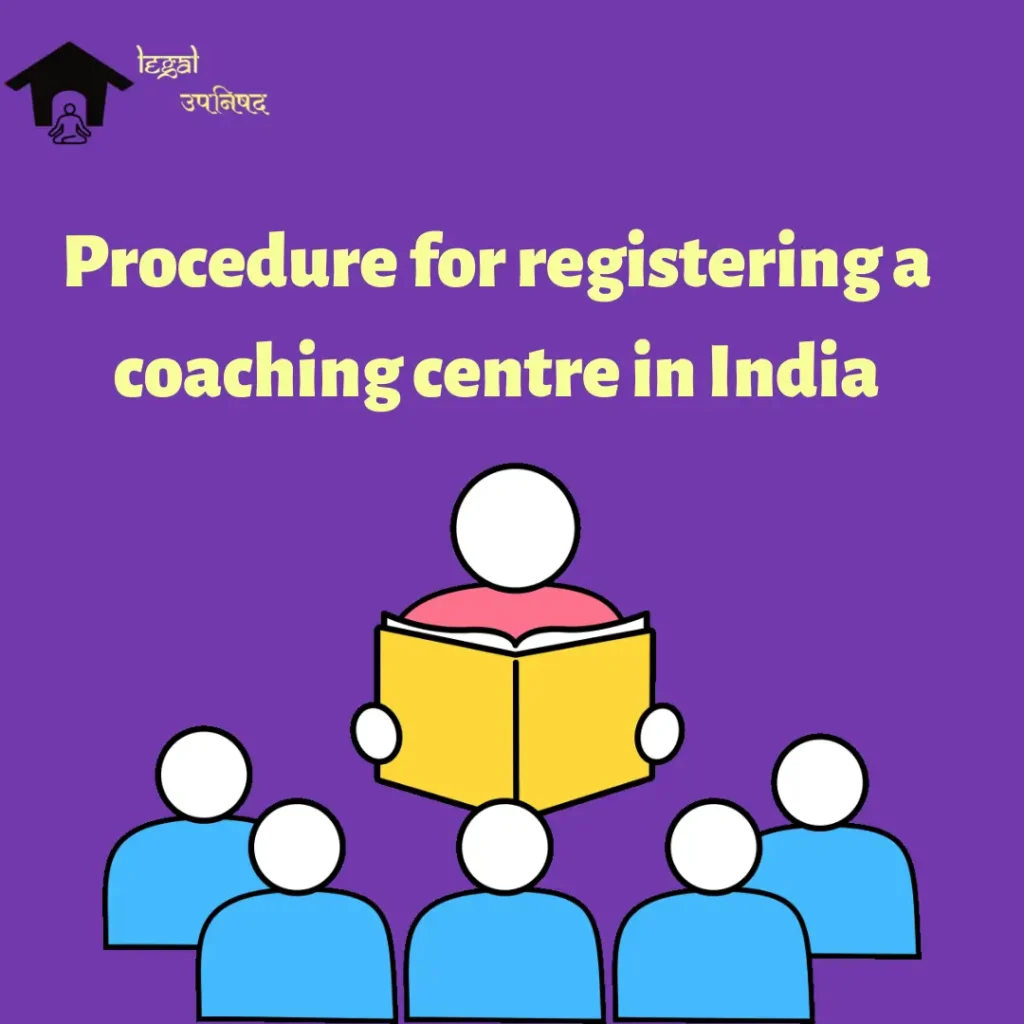 How does one obtain a business permit for a coaching centre?
To acquire a business permit, he should apply to a city council corporate entity in the region where he intends to access a coaching centre.
In order to begin one coaching company, one must first obtain a license.
3 months well before the beginning of the event, the implementation must be received from the commercial organization which will demonstrate the said coaching centre, and political establishment. Following this, once a permit is issued, it needs to be revived on a regular basis to ensure that company is being conducted in compliance with local laws.
There is a handful of documents and files that must be supplied, depending on the location of a coaching centre that has been specified.
In the case of corporations/personally legal entities, the mentioned documents must be included with the proposal:
Memo of association must be generated by individual restrained businesses,
details in Form No. 32 regarding the scope or amount of the company's managing director must be required to submit by that person,
Form No. 18 regarding this same head office of the commercial enterprise must be required to submit by such an individual,
And proof of custody or availability must be required to submit.
The Partnering agreement must be created in the instance of a Partnership firm.
In addition to the new form and files, one must provide a statutory declaration (also known as an affidavit)/declaration stating that there are any inconsistencies or illicit behavior just on part of the individual or corporation who wishes to start or begin a coaching centre, the credentials of enrollment may be rescinded.
Since making significant investigations within 30 days of receiving the request, the Town council Commissioner shall, if fulfilled, give the license of enrollment to the individual who wishes to access a coaching centre if the application is in sequence, or will reject the request if it is not entirely true.
Getting a Bank Account
A further constant and predictable step is to establish a current account in any nationalized bank in one's name or the title of one coaching centre.
Process:
A service tax registration number and a VAT/CST number, as well as a written statement from a CA declaring the nature of your company and the type of company one intends to start, and letterhead with the firm's or the company's personal details, as well as a stamp in the name of the owner.
One can open a bank account for one coaching centre upon having to submit all these files and enrollment duplicates to a bank.
One must keep the least number of packages in this account tend to range from offering to twenty-five thousand.
Registration for Service Tax
The Indian government demands us to pay service charges; however, when it is anticipated that attrition will be lower than 9 lacs, one is exempted from paying the service charges.
The enrollment implementation should be completed using the ST-1 form, which can be transmitted electronically after registering for an account on the following page:
https://www.aces.gov.in/STASE/ui/jsp/common/registerWithACES.do
Conclusion
Coaching businesses were scarce a few decades earlier, but India is now the main market for the education sector. Building and maintaining a successful coaching centre is a difficult task that necessitates discipline and perseverance. Preparatory work and familiarity with the Indian Education System will guarantee the best results. As the demand for coaching institutes is increasing it is necessary to register them properly for people to know about it.
References
An article by blog ipleaders published on 22 December 2016 (https://blog.ipleaders.in/coaching-centre-licensing-registration-norms/)
An article by Nitesh Goswami (https://okcredit.in/blog/how-to-start-a-coaching-centre/)