This article on 'Abortion Laws in India 2022: Latest Supreme Court Judgment' was written by Shraddha Pandey, an intern at Legal Upanishad.
Introduction
Abortion rights in India are given to women since the 1960s. Earlier there were no rights given to women for abortion. Earlier it was considered a crime and was punishable under section 312 of IPC. A married woman's husband's consent is not considered as it's the woman who has to face the ups and downs of the pregnancy. In this article, we will see about the legal rights of unmarried women, rape victims, etc.
Is Abortion legal in India?
Abortion is legal in India in some circumstances, as abortion laws differ for unmarried girls, sexual assault victims, and married women. Whenever a pregnancy is terminated after the legitimate time frame for abortion in India, it is referred to as feticides. Once you discontinue before then, it is referred to as abortion.
In India, abortion is the intentional clinical end of a pregnancy, that can be accomplished in 2 ways:
Surgical Abortion:- When a woman desires to have an abortion after seven weeks of pregnancy, a surgical abortion could be performed. T Such is significantly more impactful than legal abortions, and the danger of an imperfect process is so much lesser.
Medical Abortion:- A clinical abortion can be performed on a woman who is fewer than seven weeks pregnant. This procedure includes using drugs and medications to terminate the pregnancy. It is a non-surgical procedure that needs to be performed under the guidance of a medical professional.
Is Abortion legal for rape victims?
Molestation constitutes one of the most heinous crimes against women. This not only hinders women physiologically, and also emotionally and mentally. As a result, abortion for victims of rape is permissible in India. Rape survivors can also file a petition before the High Court or Supreme Court for pregnancy termination and legitimate abortion in India.
Is Abortion legal for unmarried women?
For single girls in India, the age limit for abortion is eighteen years. Born out of wedlock, women over eighteen can give their signed permission to have an abortion. If a woman is under the age of 18, she must give written permission. This permission must arrive from her caregiver and a particular reason for the pregnancy abortion.
Abortion laws in India
History of laws in India
Abortion was unlawful in India till the 1960s, and a woman might face a three-year prison sentence and/or a penalization under Section 312 of the IPC.
The government appointed the Shantilal Shah Committee in the mid-1960s and requested the group, led by Dr. Shantilal Shah, to investigate abortion services and determine whether India would need a law prohibiting them.
A clinical termination proposal had also been introduced in The Lok Sabha and Rajya Sabha based on the Shantilal Shah Committee's report and in August 1971 it was approved by the Parliament.
A clinical termination proposal had also been introduced in The Lok Sabha and Rajya Sabha based on the Shantilal Shah Committee's report and was approved by Parliament in August 1971.
The Medical Termination of Pregnancy (MTP) Act of 1971 went into effect on April 1, 1972, and was implemented in the whole of India apart from Jammu and Kashmir.
Furthermore, Section 312 of the Indian Penal Code, 1860, makes it a crime to knowingly and willingly "cause miscarriage," regardless of whether the miscarriage occurs with the pregnant mother's consent unless the miscarriage is precipitated to safeguard the woman's life.
This implies that a woman, or anybody else, along with a medical expert, could be charged with having an abortion.
Medical Termination of Pregnancy (MTP) Act, 1971
The Medical Termination of Pregnancy (MTP) Act of 1971 permitted a medical professional to end a pregnancy in two stages:
Abortions up to twelve weeks ever since conception required only one doctor's diagnosis.
Before consenting to end the woman's pregnancy, the point of view of doctors was needed to determine if proceeding with the pregnancy would constitute a threat to the life of the pregnant woman or grave harm to her health, or if there is a significant threat implying baby will indeed suffer from such mental or physical malformations as to be gravely "handicapped."
Recent Amendments
Parliament changed the law in 2021 to allow abortions based on the recommendation of one general practitioner for pregnancies up to 20 weeks.
For pregnancies between 20 and 24 weeks, the altered law requires the advice of two doctors.
Furthermore, for pregnancies between 20 and 24 weeks, regulations clarified seven categories of women that would be able to seek cessation under section 3B of the MTP Act's rules.
Victims of sexual assault, rape, or adultery,
A shift in the marital status of a pregnant woman (widowhood and divorce),
Minors,
The fetal deformity that it has a significant threat of becoming unsuitable for life or the baby is born with such mental or physical malformations that the baby will be severely handicapped,
Women with physical disabilities [major disability as defined by the Rights of Persons with Disabilities Act of 2016],
The govt may proclaim pregnancy in humanitarian settings, catastrophic events, or emergencies, and
Women with mental illnesses, along with mental retardation.
Who can perform an abortion under the law?
While every medical institution in India that has been granted a government license to perform medically assisted abortions must display a government-issued certificate.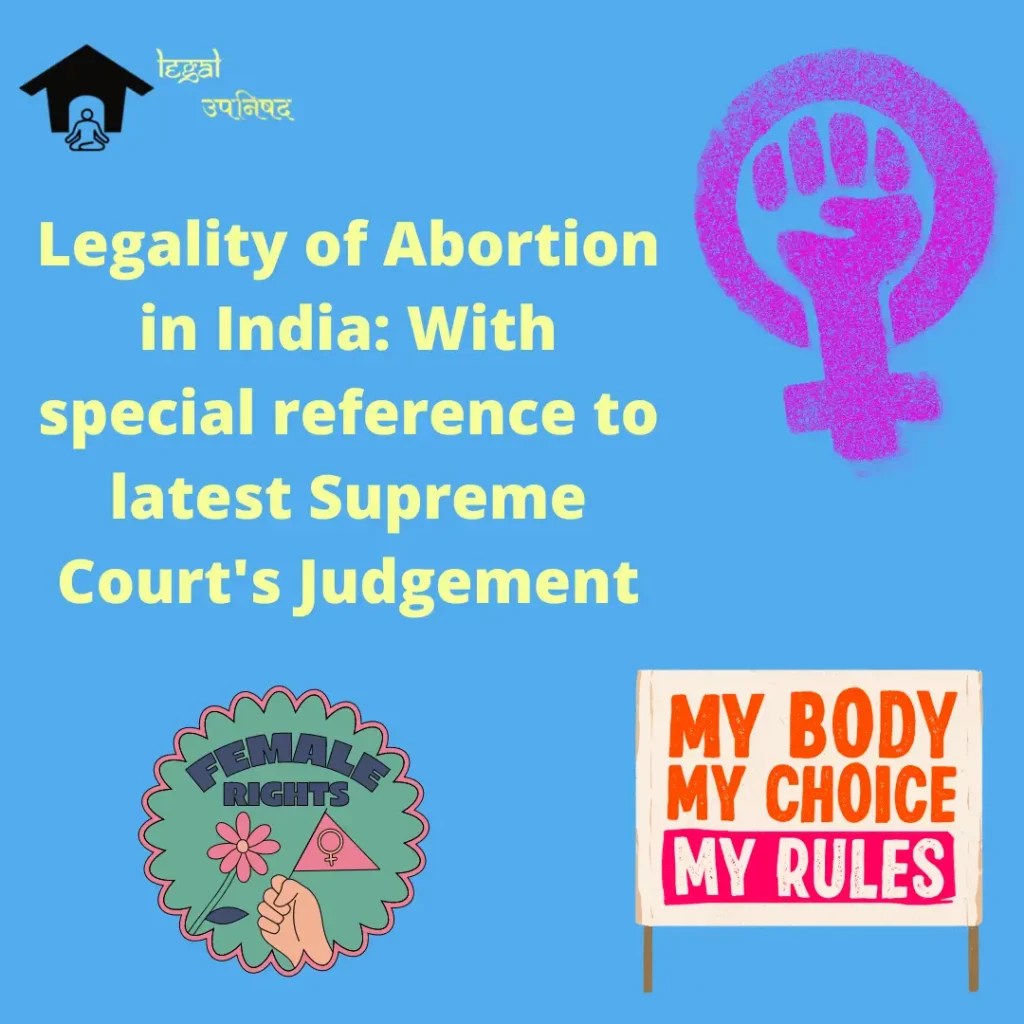 Qualifications of a doctor to perform an abortion:
A registered medical practitioner in India who has performed at least 25 medically assisted abortions.
A surgeon with six months of obstetrics and gynecology experience.
A surgeon with six months of obstetrics and gynecology experience.
A doctor who was registered before the passage of the MTP Act in 1971 and has three years of experience in obstetrics and gynecology.
Latest Supreme Court ruling on Abortion rights of unmarried women
Facts: A woman was in a living relationship with a man. Her case was that she wished to terminate her pregnancy her partner refused to marry her at the last stage. She was over 21 and pregnant. She argued that following the pregnancy will not have a good impact on her mental and physical health.
Judgment: The three-judge bench comprising Justices D Y Chandrachud, A S Bopanna, and J B Pardiwala that only a few categories of women are allowed to seek termination of pregnancy between 20-24 weeks under the unusual scenario. The Supreme Court allowed her to terminate their pregnancy cause of an interim order passed in July.
Conclusion
India's abortion legitimate structure is widely regarded as accelerated, particularly when compared to several countries, such as the United States, in which abortion restrictions are strictly prohibited – both currently and historically. Furthermore, a serious rethinking of policy making is required, as is accommodating all interested parties to concentrate on women and their reproductive freedom, instead of trying to draw red lines that health professionals could indeed cross whilst also performing an abortion.
References
Article published by Vivek- "Is Abortion legal in India (https://www.legalserviceindia.com/legal/article-6424-is-abortion-legal-in-india-.html)
Abortion law in India" – Published on 25th July 2022 (https://www.drishtiias.com/daily-updates/daily-news-analysis/abortion-law-in-india)
Article by Apurva Vishwanth – Published on 30th September 2022 "Supreme Court's Abortion Ruling" (https://indianexpress.com/article/explained/supreme-court-women-abortion-ruling-8181347/#:~:text=The%20SC%20has%20extended%20the,without%20interference%20from%20the%20state.)