This article on 'Abortion Laws in the US: All you need to know' was written by Risha Sharma, an intern at Legal Upanishad.
Introduction
This article discusses the aftermath of the overruling of the landmark judgment of Roe v. Wade, which granted American women the constitutional right to abortion as a part of the right to privacy and liberty.
The long-standing rule of Roe was further upheld by the Supreme Court of the United States in the Casey Case, thus keeping the states' abortion-banning laws at bay. With these cases being recently set aside by the Apex Court of the US, access to abortion now vests in the hands of state legislatures. Such a move brings great threat to women in certain states where the laws are either ambiguous or provide women with no relief, as is observed in states where courts have blocked abortion-banning laws on account of the controversies brewing.
Roe v. Wade Overruled
Abortion laws in the US have always been the subject of great debate. The landmark judgment of Roe v. Wade has been the backbone of upholding women's constitutional right to abortion across the country.[1] So, in a rather surprising turn of events, the US Supreme Court in Dobbs v. Jackson Women's Health Organization made history by overturning the landmark, 50-year-old ruling laid down in Roe v. Wade. Simultaneously, Planned Parenthood of Southeast Pennsylvania v. Casey reaffirmed the decision laid down in Roe.[2]In this 6-3 majority judgment, the Court opined that
"The Constitution does not confer a right to abortion; … and the authority to regulate abortion is returned to the people and their elected representatives."[3]
In Dobbs, Mississippi's Gestational Age Act was being challenged before the SC by the respondents on the grounds of contradicting the principles set out in Roe and Casey. The Act essentially prohibited abortion post the 15-week mark in pregnancy except in case of a medical emergency or extreme abnormality. Ruling in favor of the Republican-backed Mississippi law, the majority judgment was delivered by Justice Samuel Alito, joined by Justices Clarence Thomas, Neil Gorsuch, Brett Kavanaugh, and Amy Coney Barrett. The dissenting opinion was given out by Justices Stephen Breyer, Sonia Sotomayor, and Elena Kagan.
The Court was of the opinion that "the right to abortion is not deeply rooted in the Nation's history and tradition." The ruling in Casey rested upon the Fourteenth Amendment's Due Process Clause, which the Court found to be exclusive of the right to an abortion.
Calling the ruling in Roe an 'abuse of judicial authority, the majority ruling stated that "Roe was egregiously wrong from the start. Its reasoning was exceptionally weak, and the decision had damaging consequences. And far from bringing about a national settlement of the abortion issue, Roe and Casey have enflamed debate and deepen division. It is time to heed the Constitution and return the issue of abortion to the people's elected representatives."
Implications of Dobbs: Rights in the States
It is now entirely up to the states to ban or protect women's abortion rights. About one-third of American women no longer have access to abortion.[4] Abortion is now banned in about 13 states, with several states applying gestational period limits for the same. As proceedings go on in the courts against the laws prohibiting access to abortion, the ban has been blocked in some states as well.[5] The abortion rights in the fifty states are as follows:
Banned
Alabama: Abortions are entirely banned, except in case of life-threatening situations. The same is punishable by up to 99 years in prison for a felony.
Arkansas: Abortions are entirely banned, except in case of life-threatening situations.
Idaho: Abortions are almost entirely banned.
Indiana: Complete ban on abortion by state legislation. However, this ban was blocked by a judge in light of due legal proceedings.
Kentucky: Abortions are entirely banned.
Louisiana: Abortions are completely banned, except in case of life-threatening situations.
Mississippi: All abortions are illegal, except in the case of rape or life-threatening situations.
Missouri: Abortions are completely banned, except in case of life-threatening situations.
North Dakota: Completely banned, deemed to be a felony. Only permitted in cases of life-threatening situations, rape, or incest.
Oklahoma: Completely banned right at the point of fertilization.
South Dakota: Complete ban on abortion except in the cases of rape or incest.
Tennessee, Texas: Complete ban on abortions, except for life-threatening conditions.
West Virginia: Completely banned except in case of a medical emergency.
Wisconsin: Complete ban on abortion placed by a 173-year-old law, legal proceedings in place to block the law.
Gestational Period/Limitations
Arizona, Florida: A gestational limit of 15 weeks applies, post which abortion is illegal.
Georgia: Abortion is banned after six weeks into pregnancy, once the foetal cardiac activity can be detected.
Iowa: A gestational limit of 20 weeks applies, post which abortion is illegal. However, a 24-hour waiting period is required before the process ensues.
Kansas: Abortions are legal up to 22 weeks of the pregnancy.
Montana: A ban was applicable on abortions after the 20-week mark; however, this ban has been blocked by a court.
Nebraska: A ban on abortion applies after 22 weeks.
New Hampshire: Abortion is legal up to 24 weeks, though not expressly protected by state law.
North Carolina: Abortions are banned after 20 weeks, with requirements of state-mandated counseling, ultrasound, and a 72-hour waiting period before termination takes place.
Ohio: A judge blocked the 6-week ban abortion law in the state.
South Carolina: The State of SC has temporarily blocked a ban on abortion after six weeks of pregnancy.
Utah: Ban applicable after 18 weeks.
Wyoming: A near complete ban on abortion has been blocked by a judge.
Legal
Alaska, California, Colorado, Connecticut, Delaware, Hawaii, Maine, Maryland, Minnesota, New Jersey, New York, Oregon, Puerto Rico, Rhode Island, and Washington: Abortions are entirely legal up to foetal viability.
Illinois: Abortions are entirely legal, and protected by the state's Supreme Court.
Massachusetts: Abortions are legal for up to 24 weeks.
Michigan: Abortions are legal until foetal viability. The requirements include a state-directed counseling session as well as a 24-hour waiting period.
Nevada: Abortions are legal till 24 weeks.
New Mexico: Abortion is entirely legal, though not expressly protected by state law.
Pennsylvania: Abortion is legal up to 24 weeks, however not strictly protected by state law.
Vermont, Washington DC: Abortions are completely legal with no gestational period.
Virginia: Completely legal abortion process, however not expressly shielded by state law.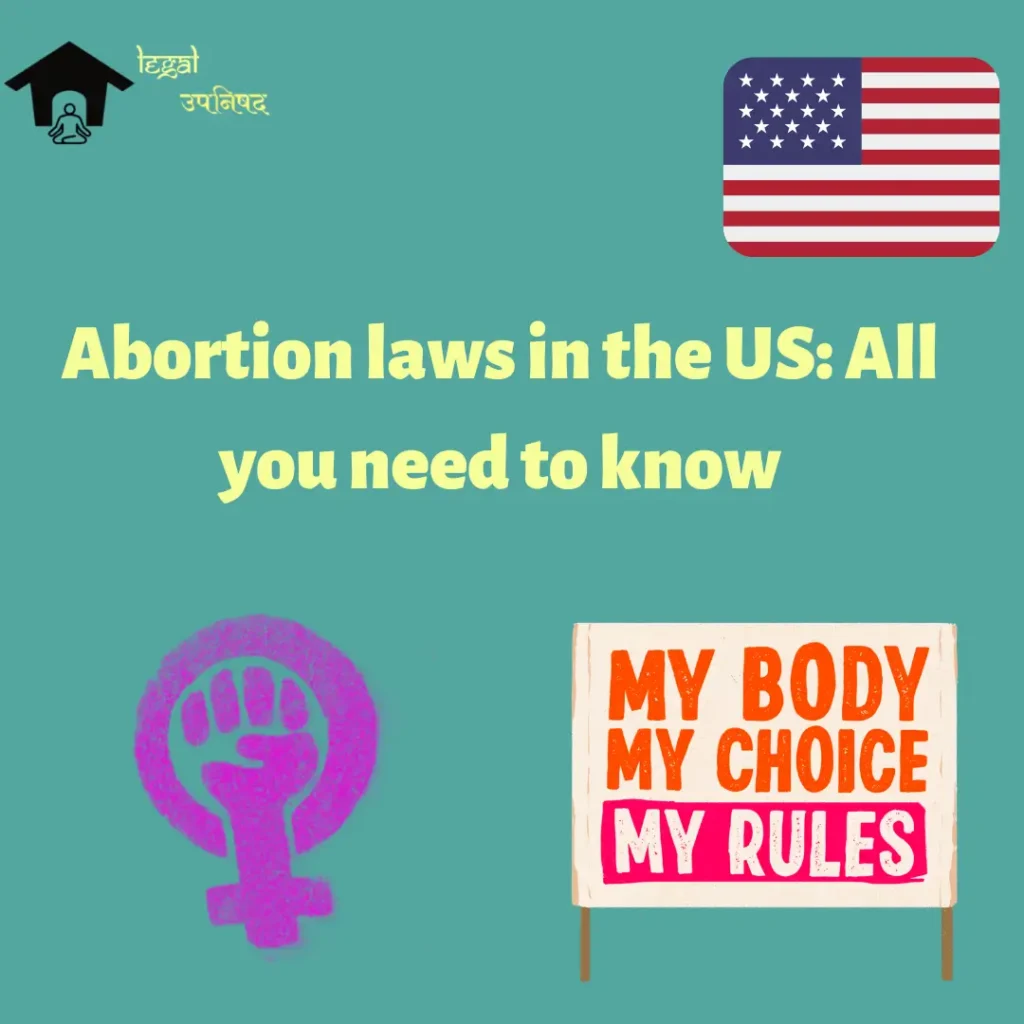 The Voice of Dissent
In their fierce dissent opinion, the dissenting judges discussed in great depth the repercussions of the majority judgment, resulting in "the curtailment of women's rights, and their status as free and equal citizens." The judges recognized that the laws of the past, which criminalized abortion were laid down by individuals who did not think of women as equals, and thus were not entirely "attuned to the importance of reproductive rights for women's liberty, or for their capacity to participate as equal members." The opinion ended on the note: "With sorrow—for this Court, but more, for the many millions of American women who have today lost a fundamental constitutional protection—we dissent."
Suggestions
Soon after the judgment came out, the UN Women's Right Committee called for the US's adherence to the CEDAW Convention ("Convention on the Elimination of All Forms of Discrimination against Women"), which was signed but never ratified by the US. The Committee recalled unsafe abortion as the leading cause of maternal mortality and morbidity.[6] It would be in the best interest of the majority of the states, if ideally not all, to settle with a gestational period of about 20 weeks before a limitation is placed instead of putting a blanket ban on women's right to abortion, with the exceptions solely being invoked in cases of medical emergencies.
Conclusion
In the wake of the disheartening judgment, a large influx of population to states with legalized abortion is observed. Keeping in mind the legacy set out by Roe and Casey, it would be of paramount importance to uphold women's right to abortion. But as can be noticed, several states have gone ahead with complete bans on the right to abortion, meanwhile, certain other state laws have been blocked on account of ongoing legal proceedings challenging the same. Moreover, a lot of ambiguity still exists for women in states wherein abortion rights are not protected by any concrete law, leaving a lot to be deliberated upon.
References
Centre for Reproductive Rights, available at: https://reproductiverights.org/case/scotus-mississippi-abortion-ban/ (last visited on: October 26, 2022)
CNET, available at: https://www.cnet.com/health/abortion-laws-in-every-state-where-is-abortion-legal/ (last visited on: October 26, 2022)
Dobbs v. Jackson Women's Health Organization, 945 F. 3d 265
Indian Express, available at: https://indianexpress.com/article/world/where-in-us-is-abortion-illegal-now-7993333/ (last visited on: October 26, 2022)
New York Times, available at: https://www.nytimes.com/interactive/2022/us/abortion-laws-roe-v-wade.html (last visited on: October 25, 2022)
Planned Parenthood of Southeast Pennsylvania v. Casey, 505 U.S. 833
Roe v. Wade, 410 U.S. 113
SCC Online Blog, available at: https://www.scconline.com/blog/post/2022/05/18/an-analysis-of-the-evolving-law-of-abortions-in-light-of-roe-v-wade-judgment/ (last visited on: October 25, 2022)
SCC Online Blog, available at: https://www.scconline.com/blog/post/2022/06/26/right-to-abortion-not-constituional-right-dissent-opinion-supreme-court-united-states-women-body-autonomy-roe-wade-casey-dobby-legal-research-updates-news/ (last visited on: October 25, 2022)
United Nations, available at: https://www.ohchr.org/en/statements/2022/07/access-safe-and-legal-abortion-urgent-call-united-states-adhere-womens-rights (last visited on: October 25, 2022)
---
[1] 410 U.S. 113
[2] 505 U.S. 833
[3] 945 F. 3d 265
[4] CNET, available at: https://www.cnet.com/health/abortion-laws-in-every-state-where-is-abortion-legal/ (last visited on: October 26, 2022)
[5] New York Times, available at: https://www.nytimes.com/interactive/2022/us/abortion-laws-roe-v-wade.html (last visited on: October 25, 2022)
[6] United Nations, available at: https://www.ohchr.org/en/statements/2022/07/access-safe-and-legal-abortion-urgent-call-united-states-adhere-womens-rights (last visited on: October 25, 2022)