This article on 'Alcohol laws in India: All you need to know' was written by Risha Sharma an intern at Legal Upanishad.
Introduction
The global market for alcohol continues to be on the rise with an increasing demand noticed each year. Taking into account the downsides associated with the harmful use of alcohol in terms of health and social well-being, it is essential to have requisite regulations in place. In view of the same, this article provides an overview of the alcohol laws pertaining to consumption in India with special reference to the effects of alcohol prohibition in the nation.
Considering the debilitating effects of alcohol upon the human body and to improve public health, certain states in India have opted for an absolute prohibition on the sale and consumption of alcohol. However, the consequences of the same have drawn huge criticism on account of poor implementation of the alcohol laws and legislative error.
Overall Regulation
The manufacture, sale, and distribution of alcohol are necessary to boost a country's economy since a lot of revenue is generated by the same. For instance, as a direct consequence of heightened demand and stringent laws against illicit liquor and smuggling from the neighbouring states, the Uttar Pradesh government witnessed revenue growth of 16% within the first six months of the fiscal year, garnering about Rs. 18,562 Crore.
Similarly, in a bid to raise revenue, Telangana imposed a hike in alcohol prices, having earned about ₹31,225 Crore in 2021-22 from liquor sales. The Constitution of India in Part IV lists down the duty of the States to prohibit the consumption of intoxicating drinks and drugs, except for medicinal purposes.
Furthermore, List II of Schedule VII deems intoxicating liquors, i.e., their production, sale, distribution, etc, thereof (Item 8), and duties of excise for the manufacture or production of alcoholic liquors for human consumption (Item 51) as State subjects. Thus, each State is vested with the right to establish alcohol laws individually. Resultantly, alcohol laws in the nation vary widely on a State-to-State basis. It is to be noted that GST does not apply to alcohol for human consumption; instead, VAT, excise duty, or both are collected.
Certain days are declared as "dry days" in the country, whereby it is not permitted to sell alcohol on such days. This is applicable to all the states across the country. States may declare certain days as dry days on account of festivals or days of national, cultural, or regional importance. Republic Day, Independence Day, and Gandhi Jayanti are considered dry days, however, this is not an exhaustive list. Dry days are also in force during elections.
In order to carry out the business of selling alcohol, one needs to obtain a 'liquor license from the State Excise Department, as provided for under the License Act, 2003. Since each State has its own independent law for alcohol distribution, getting in touch with the local authorities can be beneficial in understanding the type of license required. Liquor licence can vary depending on the type of alcoholic beverage. Such a license can be obtained by a manufacturer, seller, or store owner.
State-wise Drinking Age Limit
Alcohol consumption is legal in India; however, certain states have prohibited the consumption of alcohol and are referred to as "dry states." There are 6 dry states in India:
Gujarat: Bombay Prohibition (Gujarat Amendment) Bill, 2009
Bihar: Bihar Excise (Amendment) Act, 2016
Nagaland: Nagaland Liquor Total Prohibition Act, 1989
Lakshadweep: Bombay Prohibition (Gujarat Amendment) Bill, 2009
Mizoram: Mizoram Liquor Prohibition Act, 2019.
Manipur (certain districts): The Manipur Liquor Prohibition Act,1991
In Gujarat, a "health permit" allows a citizen to buy and consume alcohol for health-related purposes from government-authorized liquor shops. With gradual relaxation in-laws, the State also permits tourists and travellers from outside Gujarat and India to consume alcohol. Within the confines of SEZs (special economic zones), even residents are free of this prohibition.
Below is the list of state-wise legal drinking ages:
18
Andaman and Nicobar Islands
Himachal Pradesh
Puducherry
Rajasthan
Sikkim
21
Arunachal Pradesh
Assam
Chhattisgarh
Dadra and Nagar Haveli
Daman & Diu
Goa
Haryana
Jammu & Kashmir:
Jharkhand
Karnataka
Ladakh
Madhya Pradesh
Odisha
Tamil Nadu
Telangana
The Government of NCT of Delhi
Tripura
Uttar Pradesh
Uttarakhand
West Bengal
23
25
Chandigarh
Maharashtra: 21 (for wine and beer), 25 (for other hard liquors)
Meghalaya
Punjab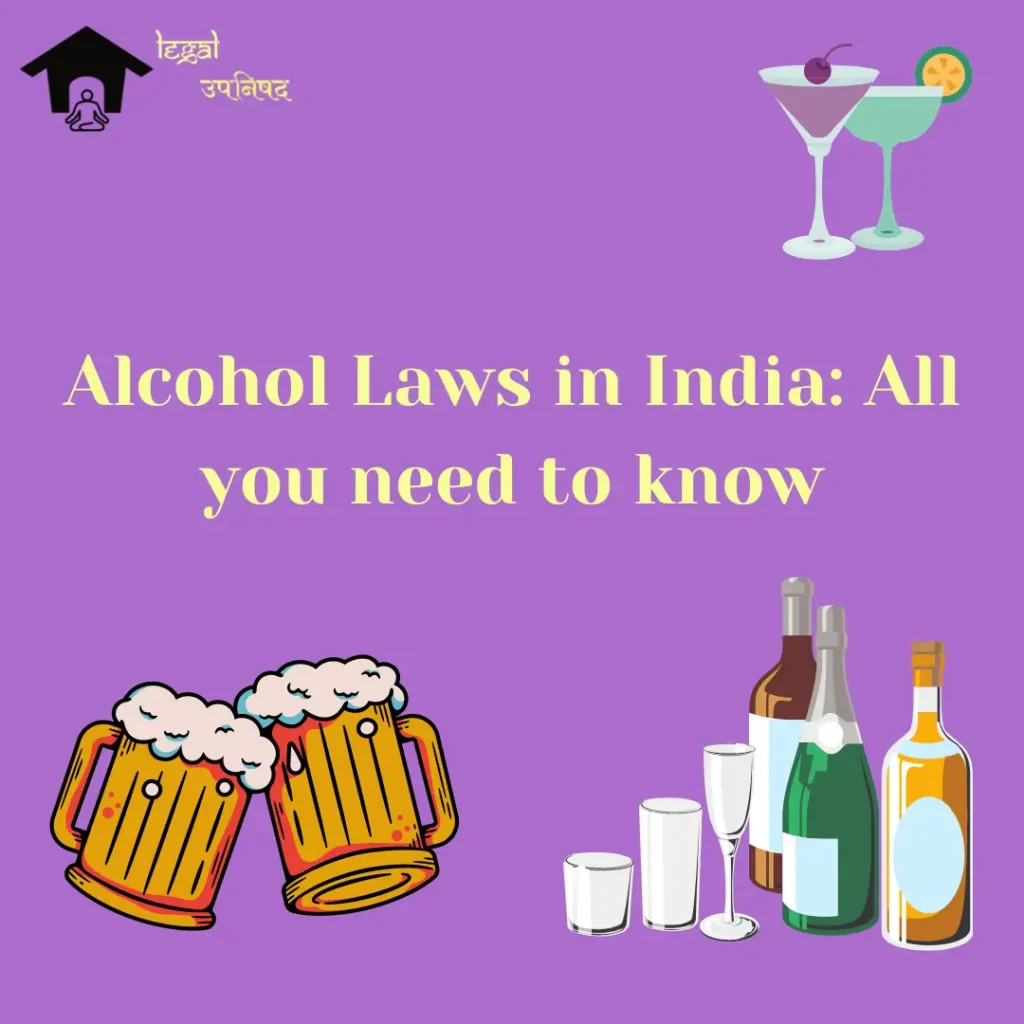 Alcohol Prohibition: Is it really effective?
Incidents in the past and recent times have indicated that a blanket ban on alcohol consumption in a State may not be the approach. Desperate individuals scramble to get their hands on alcohol and unknowingly consume illicit alcohol, resulting in loss of life. Several incidents have sprung up that hint at the lapses in the law, the framework, and its implementation.
The prime example of this is the "hooch tragedy" of Gujarat, the state which has observed a prohibition on alcohol since 1961. After consuming spurious liquor, about 42 people lost their lives and 97 were receiving treatment.   A similar tragedy occurred in the State in 2009 wherein 148 people died as a result of consuming adulterated alcohol, leading to an amendment in the Excise Act which provided for the death penalty for death caused by the consumption of illicit liquor.   Despite a complete ban, liquor flow into the state exists through the black market. 
Efforts were made in 2015 by the Maharashtra Government to declare Chandrapur district as a "dry district", which eventually led to a heightened flow of harmful illicit and spurious liquor into the district from neighbouring districts and a high in criminal activities. This was accompanied by adverse social and health impacts, an elevated crime rate, and a fall in revenue, causing the Government to ultimately lift the ban in 2021 based on the recommendations by the high-level committee set up by the government to look into the impacts of the ban. 
In 2016, Bihar was subjected to an alcohol prohibition law and appeared to have received positive outcomes in the initial stages. However, a rise in deaths due to the consumption of illicit/spurious alcohol was observed and the flow of liquor into the State by the neighbouring states persisted. In 2021, Chief Justice NV Ramana termed the prohibition as an example of a "lack of foresight" in drafting legislation.   On the other hand, Manipur CM N Biren Singh has chosen to partially lift the alcohol ban in certain districts in a bid to promote state revenue and control illicit alcohol consumption. 
Conclusion
There is no doubt about the abundance of alcohol laws in the country due to the presence of state-wise laws for the regulation of alcohol manufacturing, sale, and consumption. The Constitution has further entrusted the States with the duty of improving the standard of living and public health conditions. The implementation of the alcohol laws seems to be the main area of struggle since instead of obtaining the desired social reforms, there appears to be a rise in the way individuals work around the law.
The imposition of draconian laws has not worked in the government's favour either due to a fall in revenue and a rise in illicit alcohol consumption-related deaths. The alternative way to reduce alcohol consumption in a state is to regulate its consumption, instead of opting for blanket bans.
References
Ananthakrishnan G, "CJI: No foresight in drafting law clogs courts, Bihar prohibition is example" Indian Express, December 27, 201, available at: https://indianexpress.com/article/india/cji-law-courts-bihar-prohibition-7691801/ (last visited on November 29, 2022)
Harit Mehta, Kapil Dave, "Gujarat mulls lifting booze barrier to boost fintech hub at GIFT city", Times of India, December 7, 2021, available at: https://timesofindia.indiatimes.com/city/ahmedabad/guj-mulls-lifting-booze-barrier-to-boost-fintech-hub-at-gift-city/articleshow/88131159.cms (last visited on November 29, 2022)
Mahesh Langa, "Death toll reaches 42 in Gujarat hooch tragedy", The Hindu, July 28, 2022, available at: https://www.thehindu.com/news/national/other-states/death-toll-reaches-42-in-gujarat-hooch-tragedy/article65691057.ece (last visited on November 28, 2022)
"Manipur Cabinet Gives Nod To Partially Lift Prohibition", The Outlook, September 21, 2022, available at: https://www.outlookindia.com/national/manipur-cabinet-gives-nod-to-partially-lift-prohibition-news-224767 (last visited on November 28, 2022)
Observer Research Foundation, available at: https://www.orfonline.org/research/experiments-in-alcohol-prohibition/ (last visited on November 28, 2022)
Shalabh, "Strong demand for liquor boosts UP excise revenue by 16%", Times of India, October 16, 2022, available at: http://timesofindia.indiatimes.com/articleshow/94888385.cms?utm_source=contentofinterest&utm_medium=text&utm_campaign=cppst (last visited on November 29, 2022)
Srinivasa Rao Apparasu, "Liquor costlier in T'gana, govt looks for additional revenue", Hindustan Times, May 20, 2022, available at: https://www.hindustantimes.com/india-news/liquor-costlier-in-t-gana-govt-looks-for-additional-revenue-101652987928559.html (last visited on November 29, 2022)
The Constitution of India, 1950.
Vaibhav Jha, "Gujarat prohibition law: Many a slip between the flask and lip" Indian Express, July 29, 2022, available at: https://indianexpress.com/article/political-pulse/gujarat-prohibition-law-hooch-tragedy-bjp-8056523/ (last visited on November 28, 2022)