This article on 'Forest Protection Laws in India' was written by an intern at Legal Upanishad.
Introduction
Forests are significant in addition to their botanical purposes, but also for their aesthetic and recreational value, which enhances and draws attention to numerous locations in North-East India and other nations. In this article, we will discuss the forest regulations and laws which has been implemented in India since the British period.
Forest Protection Laws and Regulations in India
South India was where the first attempts to control Indian forests started. To investigate the source of teak in the Malabar jungles, a commission was established in 1880. South India was where the first attempts to control Indian forests started. The original Indian Forest Act had been enacted in 1865. On May 1st, 1865, it went into effect. By virtue of an Act, the government was given the authority to designate any area covered by trees as a state forest and to make regulations for their preservation.
It was the British government's initial attempt at forest law in India. However, it was the Board of Revenue's attitude that prevented the Indian Forest Act from being extended to the Madras presidency. It was decided that villagers possessed rights over the forests and also that the authorities could not declare the forests as an exclusive domain.
The updated Indian Forest Act had been enacted in 1878 and applied to all of British India's provinces, to the exclusion of Madras and a few minor places. The Indian Forest Act of 1865 had shortcomings that this Act attempted to address. This Act divided the forests into three categories: local forests, preserved forests, and conserved forests. This Act limited and regulated the rights of its citizens to use forest areas and the produce from forests that were designated as reserved or protected. The administration was given the authority to manage the forests.
Indian Forest Act, 1927
A new unified Forest Act, including superseded all earlier legislation, was enacted in 1927 to modernize the forest laws and the forest Act of 1875. The Act is made up of 13 chapters and 86 sections. The Act's primary goals are
To combine the legislation governing forests,
Control over and transportation of forest products,
To impose taxes on wood and other forest products.
The Act categorised the forest into three broad manners, as follows:
Reserved Forest – Chapter II of said Act covers forest reserves. It is a parcel of land that has been properly designated per section 20 of the Indian Union's State Forest Acts or under its reservation clauses. All rights associated with the aforementioned area of land, both with and without changes or adjustment of limits, vest in the State Authority once the Forest Settlement Officer clears up all claims by either acknowledging or dismissing them following the Act's clauses and has heard and resolved any appeals. Following that, the State Government notifies the public that the area is a Reserved Forest by section 20 of said Indian Forest Act, 1927.
Village Forests: Chapter III discusses village forests in detail. Section 28 governs how it is formed. Any local community may be given rights to a piece of land that is potentially part of a forest that has been set aside for their exclusive usage by the government. In most cases, village grazing reserves are formed from forested community property (VGR). Upon settlement revenue, plans for villages and parcels of land with this notification are indicated.
The forest in a village is distinct from the village in the forest. Despite the frequent overlap of the two phrases, their meanings are distinct from one another. Village forest is a legal categorization according to the Indian Forest Act, but village forest is only a legal category on paper. Forest villages are acknowledged as part of the forest department, but because they are not formally part of the revenue departments, therefore cannot get revenue benefits.
Protected Forests – Chapter IV of said Act deals with protected forests. It is a region or amount of land that has been designated as government property following the terms of section 29 and is not a restricted forest. As opposed to the proclamation of a reserved forest, it does not necessitate the drawn-out and laborious process of settlement. The Administration may issue notices designating specific trees as being reserved, suspending any private rights for a maximum of 30 years, or prohibiting quarrying, the removal of any forest product, distribution of land, etc.
Non-government Forests are a different category of forests. Despite not being specifically referred to as a different category, this category is covered in Chapter V of such an Act. It includes any property and forests that are not under governmental control. To safeguard against hurricanes, winds, moving stones, floods, and landslides, to maintain soil against erosion, try to preserve water in springs, waterways, and storage tanks, to prevent roads, bridges, railways, and communications lines as well as to protect public health, the State government may by notification control or forbid the splitting up or emptying of land for agriculture, the grazing land for cattle, or even the firing or removing vegetation.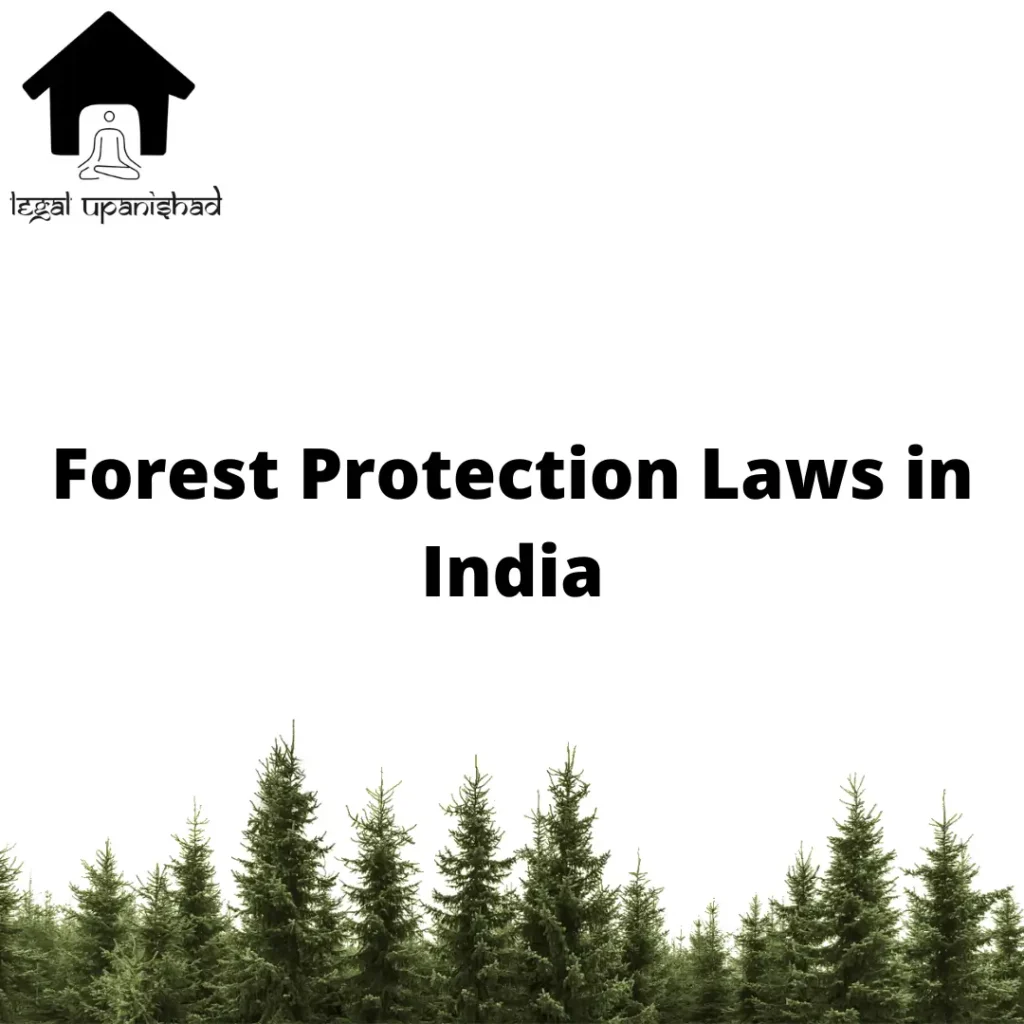 Forest Conservation Act, 1980
The Parliament passed the use Forest Conservation Act, 1980 in 1980 in response to India's rapidly declining forest cover and to fulfill its constitutional duty under Article 48-A. Ecological unbalance and environmental degradation is brought on by deforestation. The Act's principal goals are to control the arbitrary repurposing of forest areas for non-forestry utilization and to preserve an ecological order between the nation's requirements for development and the preservation of its environmental legacy.
Therefore at the country level, a body called "Compensatory Afforestation Management and Planning Authority (CAMPA)" is being established to oversee the efficient execution of compensatory afforestation within the country.
The Forest Conservation Act of 1980 necessitated obtaining permission from the Central Govt before de-reserving Reserve Forests, using forestland for non-forest purposes, or assigning leases.
In any of the aforementioned operations, State Governments or other authorities must first receive prior clearance from the Central Government, according to Section 2 of the Act.
If a request for clearance is denied, the individual who feels wronged by the decision may appeal to the National Environmental Appellate Authority, which was established under the National Environmental Appellate Authority Act in 1997, before thirty days of the proposal's denial.
The Scheduled Tribes and Other Traditional Forest Dwellers (Recognition of Forest Rights) Act, 2006
On December 18, 2006, the Lok Sabha and Rajya Sabha both overwhelmingly approved the Scheduled Tribes and Other Traditional Forest Dwellers (Recognition of Forest Rights) Act, 2006. The purpose of this Act was to grant accustomed forest inhabitants ownership rights regarding forestland. The legislation relates to the denial of land and related resources for populations living in forests for decades due to the persistence of colonial forest rules in India.
The following are among the rights listed in the Act:
Right to reside inside a forest as part of a private or public occupancy for habitat or self-cultivation for a living
Access, utilisation, and disposal of minor forest products
Rights like grazing and customary seasonal resource availability
Any local administration or state administration may award grants or leases on forest areas, but only certain rights may be converted to titles.
The authority to maintain, preserve, restore, or safeguard any communal forest resources meet certain requirements to be classified as "scheduled," including possessing "primitive" characteristics, living in seclusion, having a distinctive culture, avoiding contact with outsiders, and being financially "backward".
Conclusion
We find methods for sustainably managing the forest to get all of its potential benefits. Not only national laws and regulations but also there are some state regulations related to forest conservation including the Madras Forest Act, 1882, the Tamil Nadu Preservation of Private Forest Act, 1949, and many more.
To obtain a suitable result from the forest laws, all administrative organs should always work rationally and make the closing statement that we must enforce the forest legislation very rigidly. Without execution and remedies, laws are pointless.
References
Ashutosh Ranjan Srivastava and Nilakhi Barman, Forest laws in India – Policies and assessment, Available at: https://thelawbrigade.com/environmental-law/forest-laws-in-india-policy-and-assessment/ (Accessed: February 15, 2023).
Videh Upadhyay, Legal and Policy frameworks related to Forest Conservation, Available at: http://awsassets.wwfindia.org/downloads/lecture_notes_session_9_1.pdf (Accessed: February 15, 2023).