This article on 'DUTIES OF AN INTERIM RESOLUTION PROFESSIONAL' is written by an intern at Legal Upanishad.
INTRODUCTION
This article will be focusing on Interim Resolution Professional (IRP) under Insolvency and Bankruptcy Code, 2016, its appointment and duties including some judicial decisions over it.
Before discussing Interim Resolution Professional, we must know why this term is defined in IBC and what is the main reason to appoint an IRP? There occur certain situations in corporate where a corporate debtor gets defaulted of completing some debt amount to their creditors on time after which they undergo some process of insolvency known as Corporate Insolvency Resolution Process (CIRP) under IBC, 2016. To conduct the process of CIRP, IRP and RP are appointed.
WHO IS AN INTERIM RESOLUTION PROFESSIONAL UNDER IBC, 2016.
Under IBC, 2016, a person is defined with some special ability that drives him to be a vital part of the entire procedure of CIRP. The person so an Interim Resolution Professional. An IRP is an insolvency expert who is appointed to conduct and monitor an unbiased CIRP. According to S. 5(27), it includes Resolution Professional under IBC, 2016. The IRP is appointed for a temporary period time until a resolution professional is appointed to take over the process of CIRP.
Eligibility criteria for IRP
As per R.4 of IBBI Regulations of 2016, an individual can be appointed as an insolvency professional or IRP only if:
He is not minor and of unsound mind.
He is an Indian Resident.
He is not convicted by any court against the offence committed with the punishment of more than six months.
As per R.5 of IBBI Regulation, 2016, He is qualified with the Examination conducted by IBBI before 1 year of applying for IRP, has finished a relevant course in this area and is a graduate under the programme of insolvency approved by the IBBI.
He is having experience of at least 15 yrs in management as well as 10 yrs of experience as a CA or CS or as Lawyer.
As per R.7 of IBBI Regulation, 2016, once the board gets satisfied after verification and found documents to be genuine, it grants a registration certificate to an applicant.
Appointment of IRP
UnderS. 7 or S.10, an application for the CIRP is filed by Financial Creditors or Corporate Debtors respectively
As the application is filed under S.7 and S. 10, an RP will be appointed as an IRP only in case there is no disciplinary action pending opposite to him.
CIRP application made by operational creditor
As per S.16 (3)(a) of IBC,2016, in case no application lies for an IRP, the NCLT will give the reference to the IBBI for the person to be appointed as an IP (Insolvency Professional) who can also act as an IRP and it is binding on the IBBI under S. 16 (3) to give its recommendation over the reference given by NCLT as to whether he is eligible for appointment or not.
As per S.16 (13) (b) of IBC, 2016, such a proposal or an application will be made under S.9(4) of IBC, 2016, and the RP as proposed will be appointed as an IRP only if there are no disciplinary actions pending opposite to him.
Further, as per S. 16(1) of IBC, 2016, an IRP is required to be appointed within 14 days from the date at which the CIRP has commenced. It is the authority of NCLT to do such an appointment. However, IRP is appointed just 30 days after his appointment.
Tenure of IRP
As per S. 16(5) of IBC, 2016, an IRP will hold the office until and unless an RP is not appointed under S. 22 of IBC, 2016. Once an RP gets appointed, the power of IRP will get ceased to control CIRP.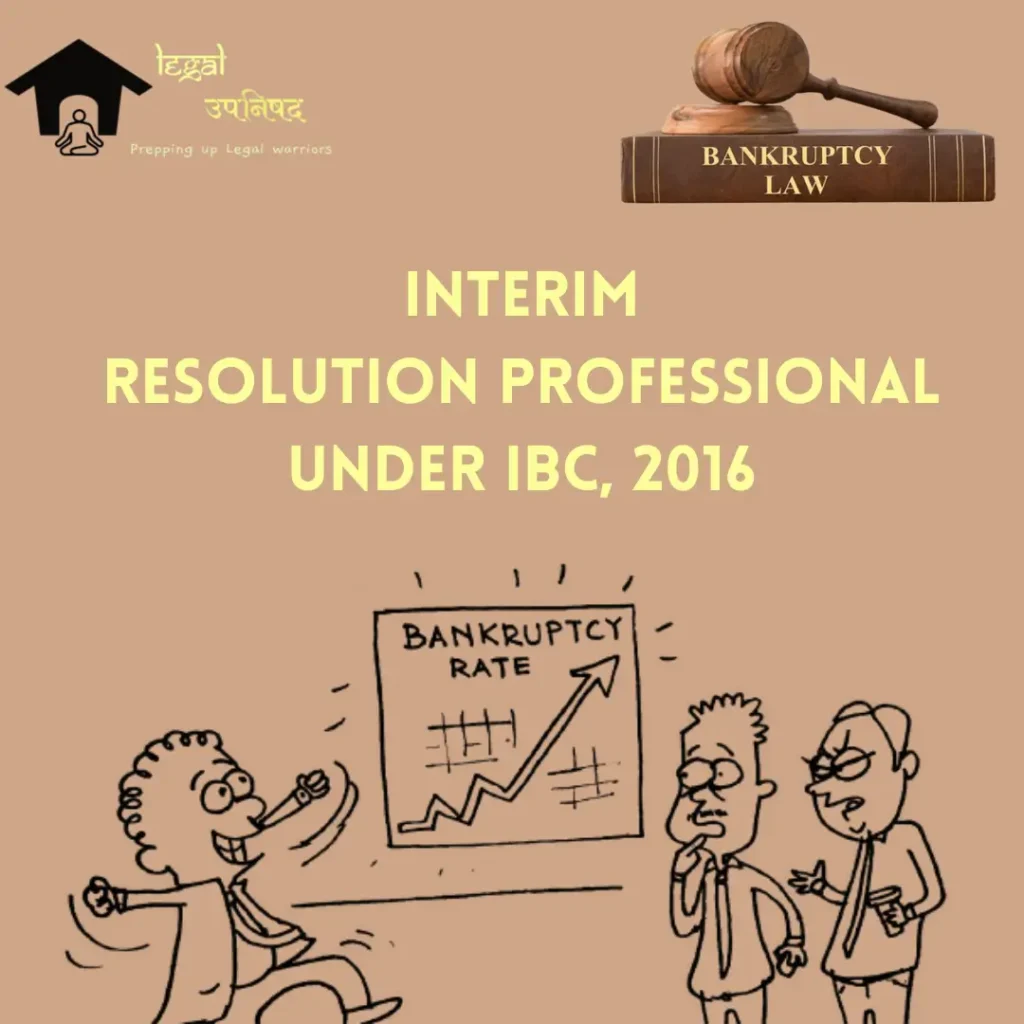 SUPERVISION OF AFFAIRS OF A CORPORATE DEBTOR BY AN IRP
From the date at which IRP is appointed under IBC, 2016.
Asper S. 17 (1) of IBC, 2016, the supervision and management of the affairs of a corporate debtor will lie in the domain of the IRP as soon as the IRP gets appointed and holds an office of Insolvency Professional and thereafter he will be responsible to manage the affairs of a corporate debtor and in case of any disparity, he will be held answerable. Further, the managers as well as the officers of a corporate debtor will be reporting to an IRP by giving him access to those documents or any record as asked by the IRP.
Also, the financial organization maintaining the accounts of such corporate debtors will be giving all the relevant information regarding the debtors as well as his account, to an IRP as he asks.
Power of IRP vested for managing corporate debtor
As per S.17 (2) of the IBC, 2016, an IRP is liable to execute as well act upon all the deeds, any documents or receipts, on the part of the corporate debtor. Also, he has the power to access any of the electronic records of a corporate debtor regarding financial information.
He has the power to access and verify his books of accounts or any of the other documents which are under government or any statutory auditors. Further, he shall be complying with any of the law which is enforced on part of the debtor.
DUTIES OF AN INTERIM RESOLUTION PROFESSIONAL
S. 18 of IBC, determines the duties of an IRP professional which are enunciated below:
An IRP is responsible for collecting all information related to the assets as well as finances of a corporate debtor in order to determine the financial status of the debtor which includes information related to:

a) Running businesses of a debtor in the previous 2 yrs;
b) the financial as well as operational transactions made in the previous 2 yrs;
c) A record of assets as well as liabilities present on the initial date;
d) any other such methods.

An IRP will be receiving and collecting every claim as submitted by the debtor under any of the public announcements made under S. 13 & 15.
He will constitute a committee of some creditors.
He will be supervising the assets of the debtor and will be managing operations until RP is appointed.
He will be filing each piece of information that he has received.
He will take custody as well as control of any of the ownership rights of the debtor over any assets and also such assets which include:

a) assets located outside India;
b) assets outside the possession of the debtor;
c) any tangible assets or intangible assets including I P;
d) any securities inclusive of shares, financial instruments or any insurance policies;
e) assets determining the ownership by the judicial body;

Any other duty as the board specifies.
CONCLUSION
The IBC, 2016 is a complete code that contained the provisions about the appointment of professionals who will conduct CIRP. The code also outlines their power as well as duties during CIRP. Being extremely important for the successful completion of CIRP, he must abide by the code.
REFERENCES