This article on 'KRK's controversial tweets case: Legal Provisions and Case Analysis' was written by Risha Sharma, an intern at Legal Upanishad.
Introduction
This article discusses the legal provisions incorporated in KRK's controversial tweets case. The article delves into the legal provisions, the Indian Penal Code, in particular, surrounding the case. The same has been done by giving an overview of the scope of the provisions involved in the judicial pronouncements on the same and how these apply to the case at hand.
Overview of the KRK's controversial tweets case
Recently, a Mumbai Court granted bail to actor Kamal Rashid Khan, commonly known as "KRK", who was arrested on account of several controversial tweets posted by him in 2020. The actor posted tweets targeting late actors Rishi Kapoor and Irrfan Khan, which were highly derogatory given the circumstances.
The KRK's controversial tweets case erupted when a complaint was filed against the actor by Yuva Sena Leader Rahul Kanal who argued that the said actor's tweets spread hatred. Kamal R Khan was arrested on the very same day. However, this is not the first time such an incident has occurred. KRK has been booked and arrested for similar incidents in the past for posting 'communal' tweets targeting actor Akshay Kumar and filmmaker Ram Gopal Verma.
In the KRK's controversial tweets case, however, KRK was apprehended under Sections 153A, 194, 500, 501, and 505 of the Indian Penal Code, 1860 ("IPC").1 The following section will deal with these provisions in depth to better comprehend the implications of the same.
Provisions of IPC
The KRK's controversial tweets case is concerned with the following provisions of the IPC, which revolve around the common theme of prohibiting hate speech:
Section 153: This Section primarily deals with the act of wantonly giving provocation with the intent to cause riots. This provision still applies to those instances where a riot does not emerge, with a reduced punishment.
Section 153A: This section of the IPC deals with "acts promoting enmity between different groups" on the basis of religion, race, etc. as well as committing acts that disrupt the existing harmony. This section aims to preserve harmony among people of different groups. Anyone found acting in contravention of this provision may face imprisonment of up to three years, which can be extended to five years if the feelings of enmity were spread on account of religion.
In the landmark judgment of Ramji Lal Modi v State of U.P.2, the Court placed heavy emphasis on the presence of "mala fide intention". A person cannot be booked under the section if his act was unintentional or bona fide. Similarly, in the 2020 case of Amish Devgan v Union of India3, the Supreme Court further deemed 'deliberate and malicious intent' necessary for constituting an offense under Section 153A. Taking into consideration the fact that this section curtails freedom of speech to a certain extent, it is pertinent to note that the SC consistently upheld the constitutional validity of hate speech provisions (like S.153A)4 on the basis of "public order", a reasonable restriction under Article 19(2).5
Section 294: This section imposes a punishment of imprisonment or fine or both on those individuals who cause annoyance to others by means of obscene acts, songs, and words in public. Since the term "obscene" has not been defined in the IPC, it has been largely left to interpretation by the courts.
In the case of Pawan Kumar v State of Haryana6, the Apex Court opined that courts need to be "sensitive to the changing perspectives and concepts of morality to appreciate the effect of Section 294 IPC on today's society and its standards, and its changing views of obscenity."
Section 505: This section deals with "statements conducing to public mischief". This provision imposes a punishment on those who publish or circulate any statement, rumor, or report which results in public mischief and enmity, hatred, or ill-will between classes.
In the case of Bilal Ahmed Kaloo v State of Andhra Pradesh7, the SC observed as follows: "The words "whoever makes, publishes or circulates" used in the setting of Section 505(2) cannot be interpreted disjunctively but only as supplementary to each other. If it is construed disjunctively, anyone who makes a statement falling within the meaning of Section 505 would, without publication or circulation, be liable to conviction."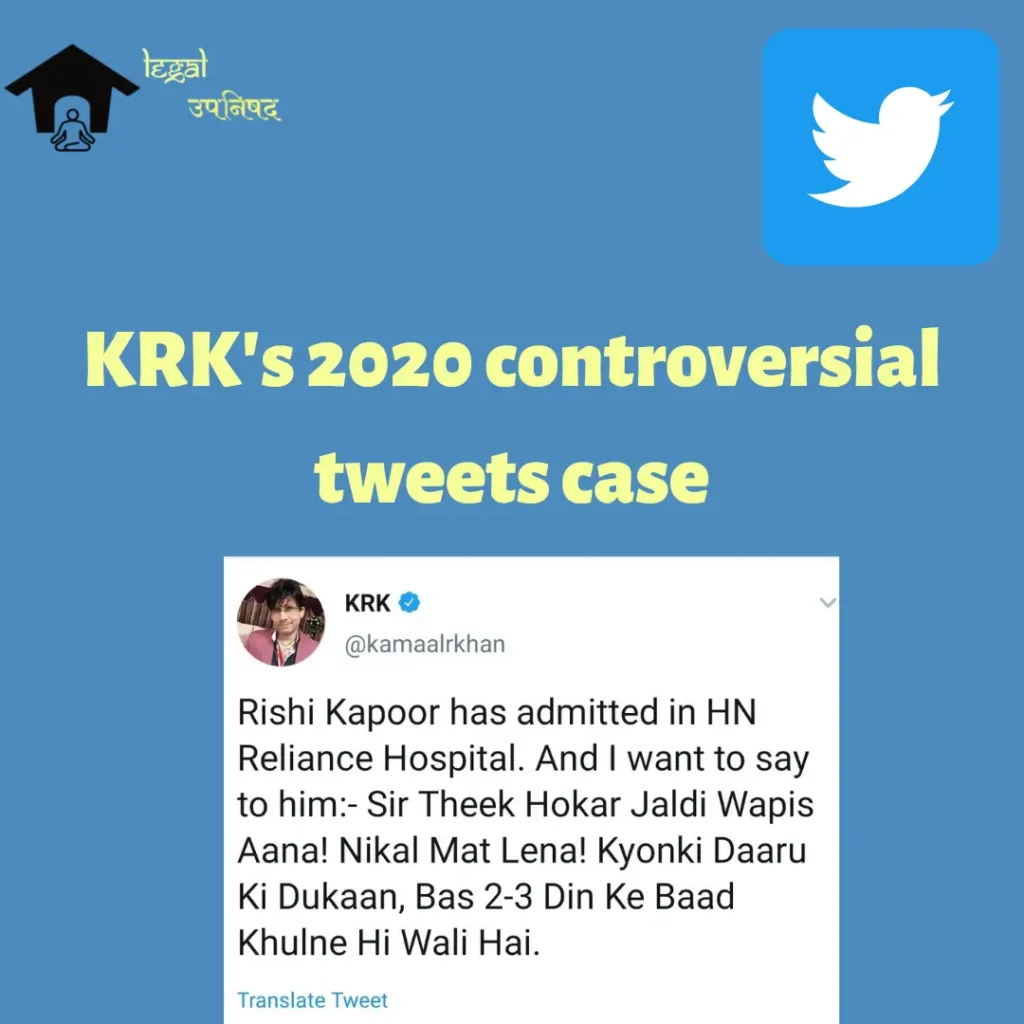 Analysis of the KRK's controversial tweets case
Infamous for his remarks that spark controversy more often than not, Kamal Khan was recently granted bail on two accounts: for the controversial remarks against late actors Irrfan Khan and Rishi Kapoor on Oct. 4, and for controversial remarks against Akshay Kumar and Ram Gopal Verma on early September. In the latter, Kamal R Khan claimed that his tweets were merely comments on the film "Laxmi Bomb" (later known by the title "Laxmi"). The tweet in question was deemed to be communal in nature and resultantly, Khan remained in judicial custody for a period of 14 days.
Similarly, the derogatory remarks concerning the late actor Rishi Kapoor posted by KRK were under scrutiny. He took to Twitter to state that the actor (Rishi Kapoor) must not die as wine shops were set to open soon. In a string of controversial tweets, Khan also stated "Covid- 19 can't go back without taking a few famous people".
Conclusion
As per this article on KRK's controversial tweets case, we can conclude that the provisions against hate speech have been devised in order to maintain peace, security, and harmony among the citizens of the nation.
The aim is to maintain an equilibrium between the freedom of speech as enshrined under Article 19(2) of the Constitution and the provisions pertaining to hate crimes such that the freedom is exercised in a constrained manner with reasonable restrictions in place so that overall peace of the nation is not jeopardized under any circumstances. As far as the string of controversial tweets posted by Kamal R Khan is concerned, it is quite obvious that the sentiments of certain groups of people were hurt. Thus, these provisions and restrictions work in sync to prevent such incidents from taking place.
References
Indian Penal Code, 1860
AIR 1957 SC 620
SCC Online 2020 SC 994
Brij Bhushan v the State of Delhi, AIR 1950 SC 129
Constitution of India, 1950, art. 19(2).
SCC(4) 1996 SC 17
1997 7 SCC 431