This article on 'Laws regulating e-waste in India' was written by Rosy Adhikary an intern at Legal Upanishad.
Introduction
Think about the following: Do you still use your old phone, or do you buy the most recent smartphones? How many phones and computers have you used over the course of your life? It will take an indefinite length of time to respond. India's growing population, industrialization, affluence, and lifestyle are driving changes in consumption patterns, such as the use of polluting digital devices. This article will help you to know about E-waste and increase awareness about the risks associated with electronics. Thus, in order to live on Earth, it must be made safe.
What is E-waste?
E-waste is essentially utter garbage produced by abandoned, outdated, or electrical equipment that has reached its end. Equipment, elements, and usability are involved.
Environmental dangers are posed by these wastes because, throughout India, the regeneration of e-waste is done via industries with little access to technology. Even when the poisonous part of the waste is eliminated, the atmosphere is still impacted by the pollutants produced during the extraction of valuable materials. If those same wastes are stored safely, reused using proven techniques, or moved from one location to another using approved transportation methods, they pose no threat to human health.
Scenario in India
Among the waste sources that are expanding the quickest globally is electronic garbage.
With an annual production of 3.2 million tonnes, India ranks third among countries in the world in terms of the amount of electronic garbage generated. Mumbai, Delhi, Bangalore, Chennai, Kolkata, Ahmedabad, Hyderabad, Pune, Surat, and Nagpur are the 10 leading cities in India for creating e-waste.
Regarding the illicit importation of E-waste, which includes used computer parts and photocopiers, 3 cases in Maharashtra, 1 case in Uttar Pradesh, 2 cases in Tamil Nadu, 1 case in Gujarat, and 2 cases in West Bengal have been discovered. The Central Board of Indirect Taxes and Customs received an instruction from the minister of state in the Ministry of Environment, Forests, and Climate Change to take legal action.
Harmful effects of E-waste
When e-waste is improperly destroyed by breaking down, melting, or shredding the components, dust particles are released into the air, causing air pollution and harm to the lungs.
Heavy metals like lead and mercury can contaminate soil, making plants susceptible to absorbing these toxins and spreading disease;
They can also enter groundwater, where they cause toxicity and alkalinity that is harmful to wildlife, the ecosystem, and the local population and they can contaminate crops, making them more susceptible to disease. Additionally, aquatic life will perish.
These are some of the detrimental effects on human health:

Brain damage is a result of lead.
When cadmium is breathed, damages the lungs severely.
Mercury impairs fertility and causes muscle weakness and impairs memory.
The liver, heart, and other organs are damaged by sulfur.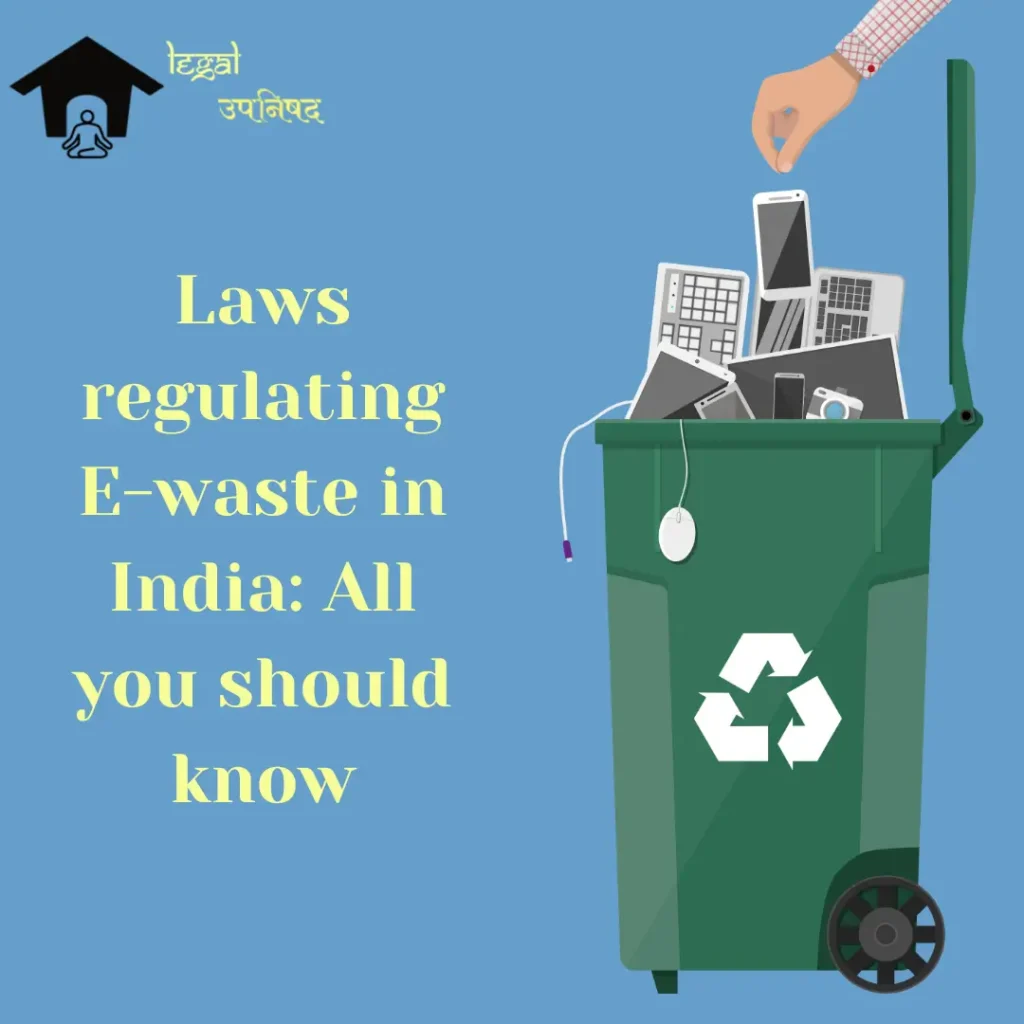 Prevailing Laws
In India, electronic waste has grown significantly over the last decades, both as a business and a concern. Since 2018, the 14th of October has been designated as International E-Waste Day. This day aims to increase public awareness of the enormous quantities of electronic garbage produced annually throughout the world.
Since 2011, only India has an established e-waste law in South Asia. In Bhopal, Madhya Pradesh, there has been established the nation's first e-waste clinic for the separation, processing, and waste management from residential and commercial units.
Due to the existence of dangerous and hazardous elements, which began to be concentrated in 2002, the Basel convention had an adverse effect on electronic waste.
The Nairobi Declaration recommended that ecologically appropriate e-waste management be implemented. E-waste was indirectly addressed by the Environment Protection Act of 1989, legislation that handles toxic substances.
The Central Government implemented the act's hazardous waste management and handling regulations in July 1986. These guidelines have undergone multiple revisions.
The far more crucial piece of legislation explicitly addressing electronic waste is the Environment (Protection) Act of 1986, which has three punitive measures in sections 15, 16, and 17. The very first legal clause to deal with electronic waste is for a sentence of up to five years in prison, a penalty of up to one lakh rupees, both, or either, with a further fine of up to 5000 rupees in the event of failure.
To facilitate the recovery of usable material from e-waste, as well as to address the safe and sustainable handling, transporting, storing, and recycling of e-waste, the Ministry of Environment, Forests, and Climate Change first announced a set of rules known as electronic waste management and handling rules in 2011 under section 6 of the Environment Protection Act, 1986. These rules were later revised to become the E-waste Management Rules, 2016, and were put into effect in 2017.
In the E-waste Management Rules, the extended producer duty is included. The company suggested offering a deposit plan. Whenever a commodity runs out, the customer can restore it back to the business and get their money back. The electronic component manufacturer must also make sure that their products do not exceed a maximum concentration value for pollutants like lead, mercury, cadmium, and hexavalent chromium. They must also provide information about constituents and a declaration that hazardous substances are not used.
Several laws are either directly or indirectly delaying things:
The 1981 Air (Prevention and Control of Pollution) Act.
The 1974 Water (Prevention and Control of Pollution) Act.
The Indian Penal Code's public health-related sections, including Sections 268, 269, 270, 277, 278, and 290, also apply to pollution brought on by e-waste. All of Nokia, Apple, Dell, and HP's recycling initiatives have started. Users are advised to put their old phones and gadgets in any of the green recycling bins located throughout the priority dealerships and care facilities.
Conclusion
Prime Minister Narendra Modi declared a "waste to wealth" programme in August 2021, concentrating on finding better uses for garbage. A competent application of the regulations that assure sustainable manufacturing, environmental safety, and good treatment of e-waste is urgently required. Over 75% of state agencies were found to be not carrying out the aforementioned legislation, according to the CAG assessment.
One can donate to those in need if they find a product to be priceless. E-waste can be delivered to a recycler through our arrangement. We can forego purchasing brand-new electronics that we will only use once and then throw away. Benefits include the ability to exchange and save money on electronics.
References
Sajal Jain and Tarun (October 20) E-Waste: India Must Take a Closer Look at Extended Producer Responsibility, available at https://science.thewire.in/environment/e-waste-india-must-take-a-closer-look-at-extended-producer-responsibility/
Drishti IAS (October 19,2021) E-Waste, available at https://www.drishtiias.com/daily-updates/daily-news-analysis/e-waste-generation