This article on 'Major Labour laws in the United States' was written by Deeksha Kushwaha, an intern at Legal Upanishad.
Introduction
Employment and labour law have been the highlight in recent years. In the year of 2017, the SC of the United States gave a judgment regarding the fees of non-union members. The name of the case was – Janus v. American Federation of States. In this case, it was held that Non-union members are not compelled to pay dues to public sector unions, and in doing so.
In the 2013 case Vance v. Ball State University, the Supreme Court ruled that an employee is only considered a "supervisor" for the purposes of vicarious liability under Title VII of the Civil Rights Act if the employer has given them the authority to take concrete employment action against the victim. In this article, we are going to study important acts and regulations provided by the United States to their employers and labour.
What is Labour Law?
Law is typically thought of as having legislative origins, being administered by state agents, being judged by state authorities, and being enforced by the state's coercive power. However, labour and management are believed to have a considerable part in the enactment and administration of labour law in many accounts of the origins and operation of the discipline.
In fact, this position has been referred to as "constitutional."
In addition, even when labour laws are passed by the state, they are frequently interpreted and put into practice by specialised public, private, or hybrid organisations and courts, staffed by non-legal professionals such as labour and management representatives.
In simple words, Work (human activity) and the workplace are governed by a complex of laws known as labour law, which includes both public and private law. It addresses the rights and obligations of employees, employers, trade unions, and governments.
Labour Law is for whom?
Labour legislation is about "labour," it applies to "employment," and it is intended to safeguard "workers." In his perceptive analysis of the problems with labour law, Richard Mitchell writes, "A review hardly less lugubrious than my own loyalty is clearly to labour as a class, not to "labour law". However, the class's own members show a waning commitment to it."
Labour Laws in the United State
There are some important acts that carry the labour laws for the protection of labour or employment or worker-
Accurate Credit Transactions Act of 2003
The provisions of this act aim to increase the authenticity of consumer credit records. It grants customers the right to receive one free credit report per year from the credit reporting companies, and it also allows them to purchase a credit score and details about how it was determined for a fair price.
In addition, the Act mandates that "risk-based pricing" notice and credit scores be given to customers in connection with credit denials or less desirable credit offers.
Along with other enhancements to the Fair Credit Reporting Act, the Act also includes provisions aimed at preventing and mitigating identity theft, such as a clause that lets customers add fraud warnings to their credit files.
Fair Credit Reporting Act (FCRA)
This law's goal is to safeguard the data gathered by consumer reporting organisations like credit bureaus, health information providers, and tenant screening services. No one may get consumer report information unless they have a legitimate need as outlined by the Act.
Companies that provide information to consumer reporting agencies are additionally subject to unique regulatory restrictions, such as the obligation to investigate disputed data.
Along with this, anybody who uses the information for employment, insurance, or credit purposes must let the consumer know if any unfavourable decisions are made based on the reports.
Numerous requirements, mostly concerning record accuracy and identity theft, were added to this Act by the Fair and Accurate Credit Transactions Act.
Breaks During Work
Meals taken during working hours do not count as work time because there is no federal regulation requiring businesses to provide breaks or lunchtime.
While some may find the instructions to be somewhat ambiguous, brief breaks lasting between 5 and 20 minutes are regarded as "compensable work hours" by the federal government.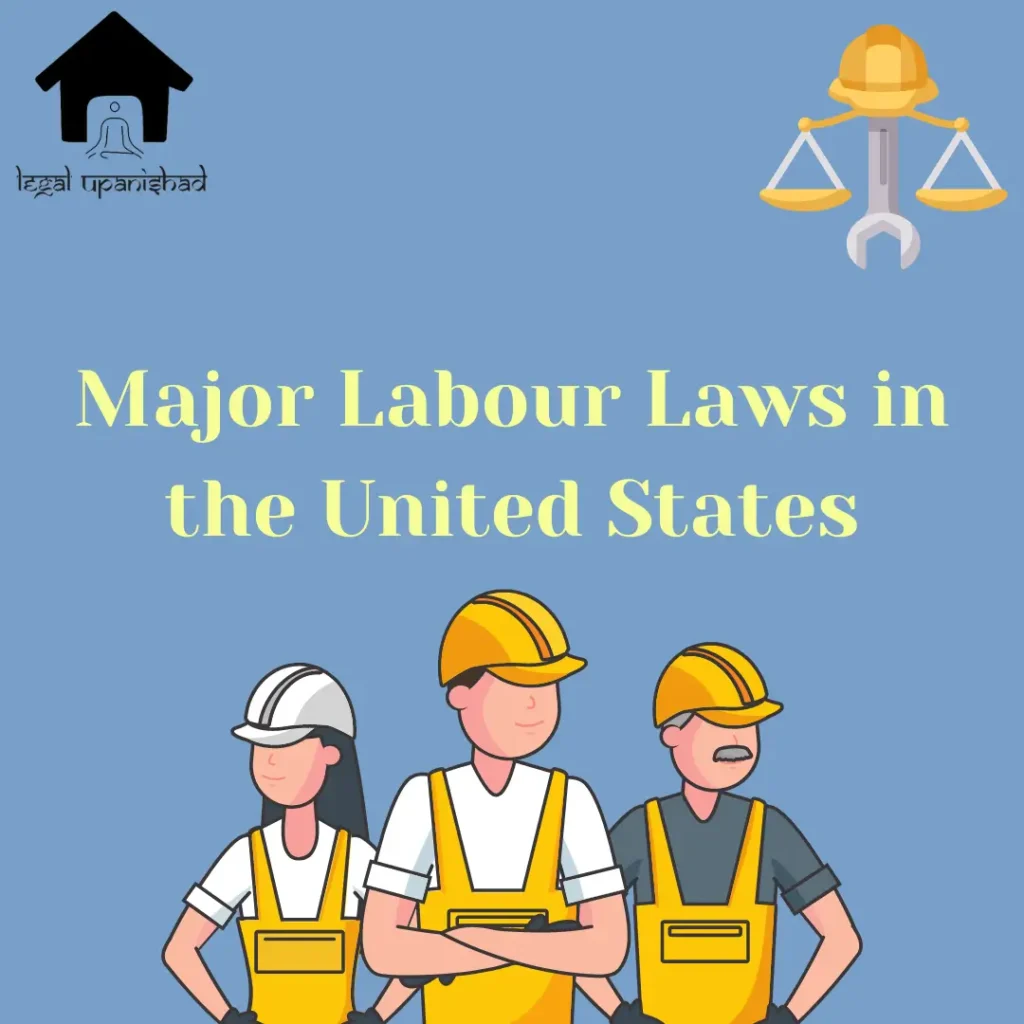 The Affordable Care Act (ACA) Nursing Mothers Provision:
The "Affordable Care Act" is the name used for both the original comprehensive health care reform law and its amendments (ACA). The law focuses on health insurance coverage, medical costs, and preventive treatment.
According to an ACA regulation, employers must offer nursing moms a private room and "appropriate break time" to express breast milk.
Immigration and Nationality Act (INA)
The INA oversees laws governing foreign workers in the country. If this applies to you, be sure to familiarise yourself with all the actions you'll need to follow to secure and keep your job in the United States.
Also be aware that if you are not a legal permanent resident of the United States, federal law requires you to apply for an Employment Authorization Document through USCIS.
Youth Labor Laws
In order to "protect youth educational opportunities and ban their employment in jobs that are damaging to their health and safety," the Department of Labor oversees and enforces regulations pertaining to child labour.
These rules set restrictions on the number of hours that minors can work as well as the types of workplaces that are unsafe for children to work in.
Suggestions
More than 180 federal statutes are supervised and enforced by the US Department of Labor. Around 10 million workplaces and 150 million people are subject to these rules regulating workplace activities. These all are the provision that provides good befits to their labour.
Conclusion
The labour laws mean, a group of provisions to give benefits to workers and employers related to their health, safety, and protection. As we discussed there are many rules and regulations to protect employers. Every state has its own rule and regulations for labour laws. They can make rules and regulations according to their necessity. Given that there are over 150 million workers in the nation and millions of different workplaces, the issue of safety and health is of the utmost importance to individuals who work in such environments.
The responsibility of the U.S. Department of Labour is to enforce the 180 federal laws dealing with employee health and safety. Each state also upholds its own labour regulations while adhering to federal law.
References