This article on 'Nexus between IP Rights and cricket with reference to tournaments like The Indian Premier League, World Cup etc.' was written by an intern at Legal Upanishad.
Introduction
Cricket is a festivity for all people, not just Indians. People fervently and joyfully celebrate cricket. For many cricket fans, the Indian Premier League season is like a huge event. That they enjoy having a party every year. IPL and world cup seasons are when Indian cricket fans experience their peak levels of excitement. People skip work and have free time to watch cricket. In India, cricket is a sport that connects people on a soul level and overcomes all obstacles. In India, people of all ages and genders admire it.
In India's little too-wide streets, one can find young, energetic children playing gully cricket. In India, there are no barriers between cricket fans based on caste, creed, religion, or class. This Article speaks about cricket tournaments and their relationship with intellectual property rights.
Indian Premier League IPL
Due to sponsorship requirements, the Indian Premier League (IPL), also known as the Vivo Indian Premier League, is a professional Twenty20 cricket league played in India between the months of April and May each year. Teams representing various Indian cities and some states compete in the league. Lalit Modi, the league's creator, and the previous commissioner is credited with creating the league, which was established by the Board of Control for Cricket in India (BCCI) in 2008. In the ICC Future Tours Program, the IPL has a special window. Duff & Phelps estimates that the IPL's brand value in 2017 was US$5.3 billion.
Intellectual Property Rights
Every time a brand name, team name, logo, tagline, or slogan is employed by a different team, the functioning of IPR is in effect. The IPR is crucial to the growth of the IPL's popularity. IPL is organised with a lot of financial investment, and IPR always contributes to its success.
There is no industry that can function successfully without the protection of intellectual property legislation. A trademark, a copyright, a design, and a design are the three types of intellectual property that must all be protected in cricket.
Copyright
IPL may employ copyright to safeguard:
• Unique images of players, teams, and occasions.
• Published findings
• IPL theme song
• Reports, rulebooks, and other tools for administering and promoting sports
Design
An original or novel design is required for it to be registerable. Cricket bats created just for the IPL would be the best instances of IPL design.
Trademark
The sports league IPL is a well-known trademark for items, and its teams (Kings XI Punjab, Mumbai Indians, and Kolkata Knight Riders), events, logos, colours, and symbols all have commercial value and are crucial branding elements. In addition to a wide variety of other items, the IPL now sells its official jersey, caps, coffee mugs, laptop skins, mobile covers, and a lot more online. There is also autographed merchandise available, where fans can purchase only signed items.
An effort to launch the Indian Junior Premier League was made in 2018 by Grace India Sports Private Limited (GISPL). This league and the IPL shared commonalities. According to the Bombay High Court's ruling, since the GISPL formed a league that used confusingly similar trademarks and domain names, such as "http:www.iplt20.com" or "juniorsipl.com," the GISPL was forbidden from using these domain names and products of the same nature.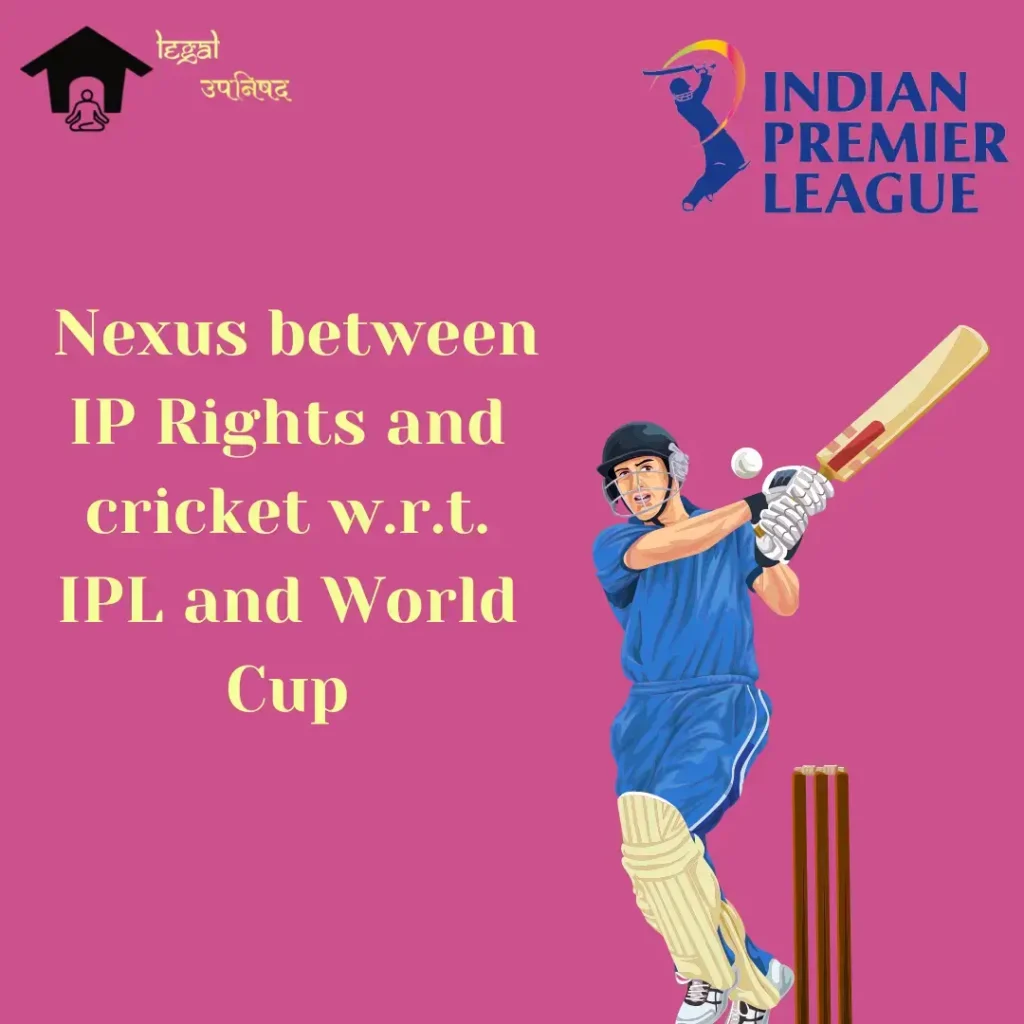 World cup
The trademark ICC CRICKET WORLD CUP is listed in government records (DEVICE ZEBRA & BALL). A 25 TM Class application has been made. According to the IP India website, Icc Development (International) Limited, the owner, is using its trademark for the ICC CRICKET WORLD CUP on goods and services that fall within Trademark Class 25. (DEVICE ZEBRA & BALL).
These trademarks are:-
Class 25 of the TM includes footwear, clothing, and headgear.
ICC Development (International) Limited is the trademark applicant, and its registered address is at A1 THURAYA TOWER 1, 11TH FLOOR DUBAI, UNITED ARAB EMIRATES. Thus, any legal action related to the ICC CRICKET WORLD CUP would be null and void (DEVICE ZEBRA & BALL). The trademark must be delivered to A1 THURAYA TOWER 1, 11TH FLOOR DUBAI, UNITED ARAB EMIRATES, which is the applicant's address. If there is an authorised attorney or agent, a duplicate copy of the trademark must also be sent to that person.
World Cup of Cricket, ICC (DEVICE ZEBRA & BALL). The status of the trademark as of December 9th, 2022, is Withdrawn.
In terms of sports, broadcasting is the main area where copyright still applies. Disney purchased the broadcast rights for the 2027 ODI World Cup, two T20 World Cups (2024 and 2026), and the 2025 Champions Trophy.
Cricket broadcasting disputes, including those involving the World Cup, are not new in India. As an example, the Delhi High Court stopped many cable companies from broadcasting the 2011 ICC World Cup without permission when ESPN sued for copyright infringement.
Conclusions
IPR is a crucial instrument in the modern day. There is an extremely high chance that an innovation will be copied without the creator's knowledge. Due to the growing importance of intellectual property, incidents of IP crime are now a common occurrence in the digital age and can occasionally even cause organisations to collapse. Customers utilise IP to ensure that they buy safe, reliable items, while businesses rely on sufficient safeguards of their patents, trademarks, and copyrights. Like any other physical asset, an IP asset provides firms with financial advantages.
IP protection is considerably more important in a web-based environment when it is comparatively easier than ever to copy any particular template, logo, or functionality.
Strong IP laws safeguard IP as a result and boost the economy of the state they are in. Each team has a distinct brand value, as well as ads, theme songs, logos, brand names, taglines, marketing strategies, and player performance strategies, all of which are considered to be intellectual property (IPR). As part of IPR, all of these resources must be safeguarded against appropriation by outside parties.
References