This article on 'Legal requirements for opening a café in India: All you need to know' was written by Monika Yadav, an intern at Legal Upanishad.
Introduction
Several more people in India now wish to operate cafes and restaurants in different cities as a result of the amazing success of establishments like The MBA Chaiwala and Chai Sutta Bar. But are you aware of all the requirements and permits that need to open a cafe?
In this article, we will look into all the important legal aspects and requirements which were required before you try your luck in the café business.
Registration of a Business
Before you go into deep, start with the initial and most important step simply getting registration for your business. The business may be of any type. A private business, limited liability partnership, partnership firm, or a single proprietary.
Required Licenses
1- FSSAI license
According to the Food Safety and Standards Act of 2006, all restaurants in India are required to acquire an FBO (Food Business Operator) license from the Food Safety and Standards Authority of India (FSSAI) to guarantee food quality for the interest of the general public. The following has to be met in order to be granted an FSSAI License:
posting notifications, certifications, and licenses;
monitoring of food workers' health on a regular basis;
knowledge of proper food handling techniques;
Messages about food safety vary depending on the kind of food being offered;
if necessary, specific product guidelines.
2- Health/Trade license
It can be obtained from the local civil authority of your locality where you start your business.
3- Eating Place license
It is received through the city's licensing police commissioner, and to do so, one must go to their website. This authority, which handles licenses for restaurants, movie theatres, and other establishments, is an ISO 9001:2008 certified company.
4- Fire Department's NOC
It must be assured that all fire safety regulations have been complied with. Before a request is submitted to such a chief fire officer for a NOC, it must be completed. One can also get in touch with the chief fire officer if the inspection takes longer than expected.
5- Pollution License
A pollution certificate is also one of the basic required licenses before opening a café. It could be get from the Delhi pollution Control Committee.
6- Permit to use music or video
The Copyright Act of 1957 requires cafes that play music or film to obtain a license. On the websites of the Indian Performing Right Society or Phonographic Performance Limited, applications may be filed for this.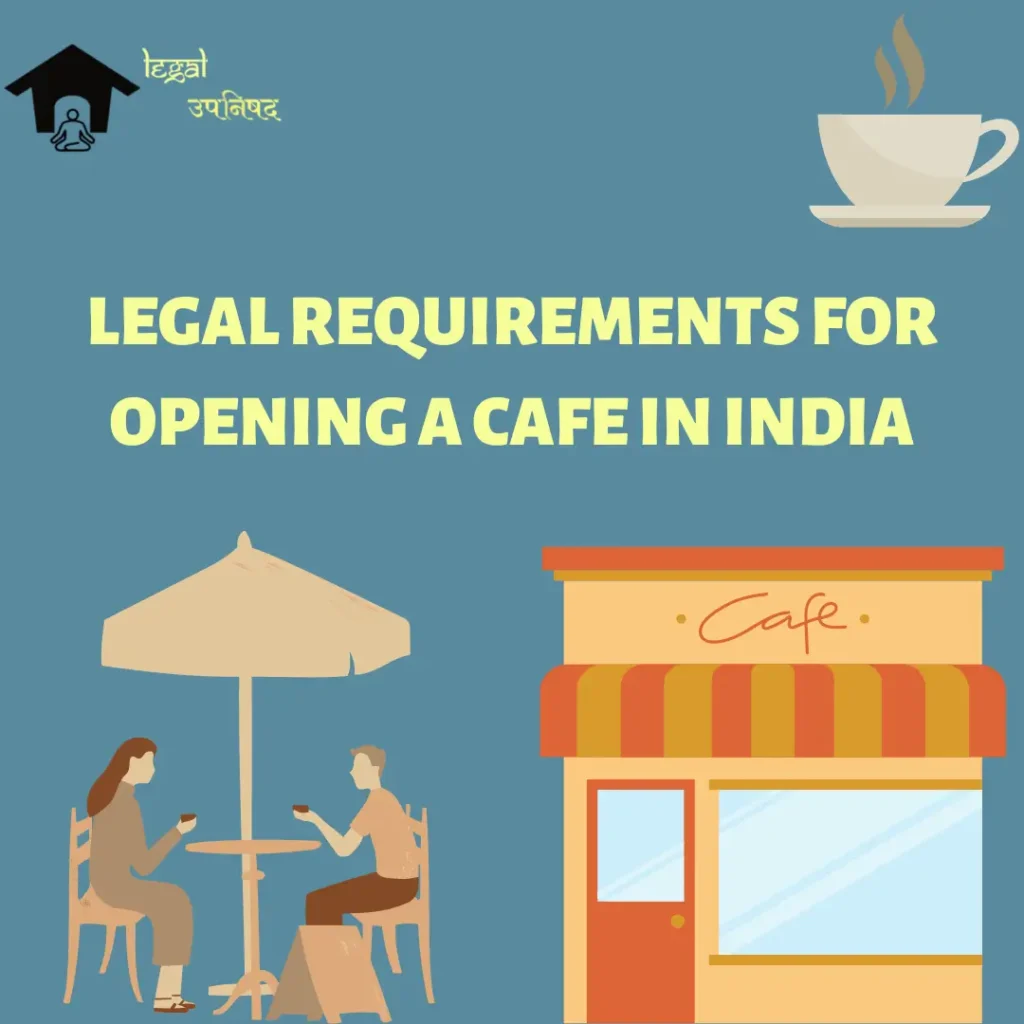 7- Registration of trademarks
While not required, it is advised that a café register its trademark to safeguard its brand. The validity of such registration is ten years.
8- The filing of GST
The café must register for GST if its yearly revenue exceeds Rs. 20 lakhs.
9- Licensing for establishments and shops
To defend the rights of employees working in retail establishments, this license was developed. In light of this, a café must obtain a Shop Act license if it employs staff members such as servers, cashiers, cooks, etc.
10- Signage license
This license must be obtained from the neighborhood civic authority. You must effectively market your creation for the café to assist you in obtaining the greatest profit from the café. However, to sell the finished logo, images, posters, and signs for the café, you will also need to obtain a legal certification known as the signage certificate.
11- Environmental Clearance Certificate
After submitting the survey for environmental evaluation, one must obtain it from the Ministry of Environment and Forests.
12- Giving a Café Business an FSSAI Registration Certificate
The requirement for FSSAI registration of an eating place must be submitted in accordance with the prescribed format and include the following documents:
essential documents required to demonstrate the location's lawful occupancy, or in the context of a rental, a NOC from the proprietor on affidavit or properly attested stamp paper is required;
site layout showing measurements of the space;
two postcard-sized images of the location describing it being used as a café;
a photocopy of the fee receipt and the business license;
a residence permit such as a driver's license, an Aadhar card, a passport, etc.
the legally binding affidavit upon stamp paper;
More than 50 people can sit in the Fire Department NOC;
a project involving popular amenities like a dance floor, bars, a disco, live performances, etc.;
contract for the installation of CCTV cameras for the 30-day storage of video.
Suggestions and Conclusion
To start a café business, one must obtain all the basic and required licenses. It aids in preserving health standards and gives one distinct legal identity. It improves the café's reputation by drawing consumers to a location that is safer and serves high-quality meals. It will result in happy customers. Restaurants and cafés operating without an FBO license would face fines of up to INR 5 lakhs and jail terms of up to six months, according to FSSAI officials.
It is also important to do ground-level research before you go into the café business regarding the competition you will face in the market and how to combat the competition in the finest way possible as well as it is important to put in a few different ideas which make your café distinct from others.
Every business needs to fulfill all the legal requirements and be licensed before it gets started. So, in case you are also planning for starting a café business, the article is about all you need to know.
Reference