This article on 'Legal Requirements for opening a Gym in India: All you need to know' was written by an intern at Legal Upanishad.
Introduction
There are always legal issues to consider for any firm. The list of factors may seem much more overwhelming to a gym owner. A lot can go wrong, from the safety aspects of an employee to injury culpability in the gym. As more people work to maintain their health and more new gyms open, it's critical to be aware of any legal issues that can influence your company. When opening and operating your gym, there are several factors to take into account, such as zoning regulations, insurance policies, and liability concerns.
This article discusses legal requirements and regulations that may worry you if you own a business in the fitness sector, or for opening a Gym in India.
Legal compliances before opening a gym:
1- The police department's approval:
For a gym to operate in a specific area, the local police force must sign a consent document. Fitness clubs must now obtain a license to operate, which can be done online and in person at the police department. This requirement stems from court orders. The process for obtaining a police department clearance is subject to the rules that are specific to each state. Each state has a different process for obtaining Police Department Clearance.[i]
2- SSI registration:
Small Scale & Ancillary Units (i.e., companies that invest less than Rs. 10 million in plant & equipment) must opt to register with the Director of Industries of the relevant State Government.
MSME registration in India is the same as SSI registration, also known as small-scale registration. The government-backed organization, namely the Ministry of Micro, Small, and Medium Enterprises through the Industries of the State Government, grants SSI registration. The main goal of SSI registration is to manage data and the function of SSI firms in India in terms of providing incentives and support services.[ii]
Procedure:
Any item for which an industrial license is not needed may be applied for by an organization as a provisional registration certificate.
Without conducting any additional fieldwork after receiving the application, a temporary registration certificate is issued.
Once the organization starts producing, it must submit a permanent registration application using the required form.
Each state government abides by the MSME standards' prescribed registration procedures. To obtain SSI registration, however, several jurisdictions have made alterations to the same.
3- Gym Registration:
Once the business plan, structure, and location-related factors have been chosen, you must choose to register your gym under Indian Partnership Act, 1932. Like any other business, a gym must be registered as a company, a partnership firm, or a single proprietorship.
This is a crucial factor to take into account if you are opening a gym in India. You can establish such a firm as a "Pvt. Ltd." company or as a Limited Liability Partnership. By doing this, you can guarantee that the gym promoter will have access to sufficient protection and transferability.  If the need arises, transferability will guarantee that the gym can be sold or transferred again. Once any anticipated responsibility is formed for the fitness center, liability protection will make sure that the promoter's liability remains restricted.
4- Insurance Cover:
To safeguard oneself and their clients from a variety of accidents that could occur in the gym, operators of fitness centers and gyms are required to acquire general liability insurance.
Depending on the amount of risk, insurance firms will often offer coverage for property, personal injury, equipment damage, and other services they think are required. Depending on the location and the number of employees, insurance will cost differently, but it's crucial to have some type of protection because litigation can make one pay through his nose.
5- Insurance for commercial property:
Any owner of a fitness facility, whether they own the building or just rent space, needs to have commercial property insurance. It ensures that your contents are protected as well as covering damage from various natural catastrophes and theft up to the coverage limits.
Commercial property insurance has you covered whether you just need coverage for one room to safeguard it from fire damage or want it all-inclusive to protect you from earthquake to tsunami.
6- Liability Insurance:
For opening a gym in India, it's important to have a reliable insurance plan. When it comes to the safety of your gym, the safety of the trainer and members should always come first, yet accidents sometimes happen. If left untreated by qualified medical personnel, customers occasionally suffer minor injuries that can have a deadly or life-altering effect. To ensure that no one else suffers as a result of anything that could have been easily avoided, you need reliable liability coverage.
7- Service Tax Registration:
The Service Tax Rules have been changed with effect from January 4, 2016, making the service provider responsible for paying service tax in relation to services rendered to a mutual fund or asset management firm by a mutual fund agent or distributor. An entity must register for service tax if the value of its taxable services reaches 9 lacs per year.[iii]
8- Compliance with the Occupational Safety and Health Act:
You must follow the OSHA safety regulations if you own a gym or you are opening a gym in India. This law sets general business minimum standards for worker safety. Although this rule has a few exemptions, most of them do not pertain to gyms.
As a gym owner, you must make sure that both your staff and clients have safe access to anti-slip surfaces on the equipment, and that all weights are securely stowed in racks with weight limits prominently displayed so that nobody surpasses them during training sessions. If OSHA regulations are not followed, there may be fines, punishments, and even criminal prosecution.[iv]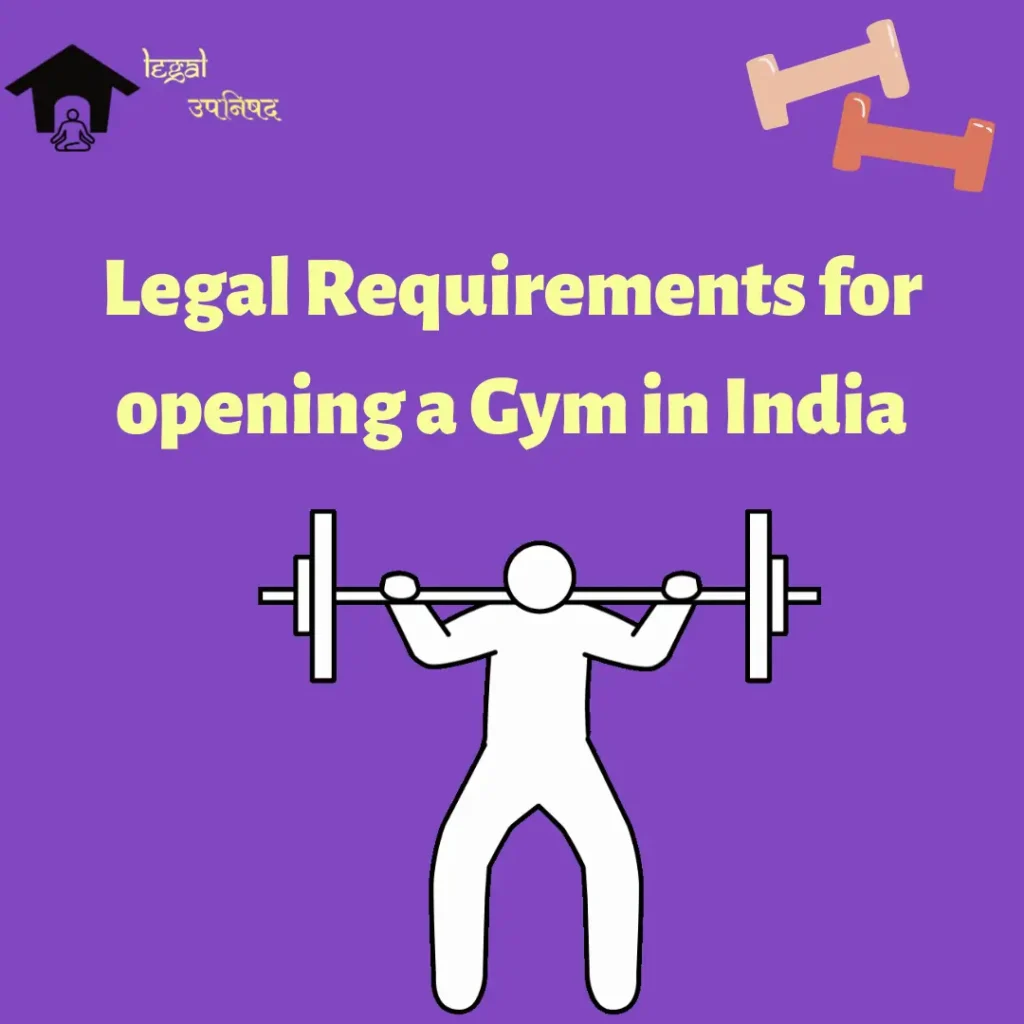 Conclusion
If you are not inclined to invest your hard-earned money into starting a gym from scratch, a franchise-based business is the best option.  The aforementioned formalities will be handled on your behalf by well-known brand ownership, which will also guarantee the hassle-free opening of a well-equipped gym. For business owners who are opening a gym, service quality has always been of utmost importance.
Additionally, the risk of becoming outshined by competitors increases for the lone gym owner if money is tight. In this aspect, a gym with a franchise model gives better flexibility and toughness. Although opening a gym may initially cost you a small amount, it can guarantee long-term and steady advancement in the future.  
---
References
[i] Gym in India: Licensing and Registration Norms, India, available at: https://blog.ipleaders.in/gym-licensing-registration-needs/ (last visited on Oct 10, 2022)
[ii] How to get Online SSI Registration, India, available at: https://www.indiafilings.com/learn/how-to-get-online-ssi-registration/ (last visited on Oct 11, 2022)
[iii] GST Rates for Beauty Parlour, Gyms, and Healthcare services, India, available at: https://www.indiafilings.com/learn/gst-rate-for-beauty-parlour-gyms-and-healthcare-services/ (last visited on Oct 11, 2022)
[iv] The Occupational Safety, Health and Working Conditions Code, 2020 (NO. 37 OF 2020)