This article on 'Religious Conversion Laws in India: All You Need to Know' was written by Pramod Sanap, an intern at Legal Upanishad.
Introduction
Religion is a vital part of an individual's life as it guides the morals and behavior of an individual. India has such a vast and diverse culture and has all kinds of religions and people practicing all kinds and forms of religion so there would be going to be conflicts between the different types of religion. It is important for the government to make laws regulating religious activities and at the same time preserve religion.
The constitution of India has elaborated on this in Part III of the fundamental right, especially in Article 25 which gives every person the right to freedom of conscience and the right to profess, practice, and propagate the religion subject to public order, morality, and health. To protect these provisions of the fundamental right there are legislations in India that provides the framework for the conversion, practice, and propagation while maintaining public order and peace.
What is meant by Religious conversion?
The acquisition of a set of beliefs associated with one specific religious group at the exclusion of others is referred to as religious conversion. Therefore, "religious conversion" would refer to the process of leaving one religion and joining another.
Legislations on religious conversion
There are many laws on religious conversion in various states of India but none is national law. The parliament of India tried to enact various anti-conversion laws after the independence but all failed due to the lack of political support. This all bills tried to regulate and check the conversion of the Hindus to 'non-Indian religions.'
History of anti-conversion law pre-independence:
During the British colonial period, various princely states introduced anti-conversion laws to resist the Christian missionaries. As all of the princely states were headed by the Hindu royal families and wanted to preserve the Hindu religious identity. These princely states were Bikaner, Udaipur, Patna, Jodhpur, Kota, Raigarh, Surguja, and Kalahandi.
States law on religious conversion:
Through the years states introduced "Freedom of Religion" laws to restrict the conversion which is carried out by fraud, force, or inducements. These "Freedom of Religion" laws are presently in force in eight states Madhya Pradesh (1968), Uttarakhand (2018), Jharkhand (2017), Odisha (1967), Chhattisgarh (2000), Arunachal Pradesh (1978), Gujarat (2003), and Himachal Pradesh (2006 and 2019).
The recent laws regarding religious conversion passed in Himachal Pradesh and Uttarakhand also declared that marriage to be void if it was solemnized for the purpose of conversion only well this recent law ignited some heated debate over the issue. But the recent development regarding religious conversion law also led to speculation on the vagueness and arbitrary nature of such provision.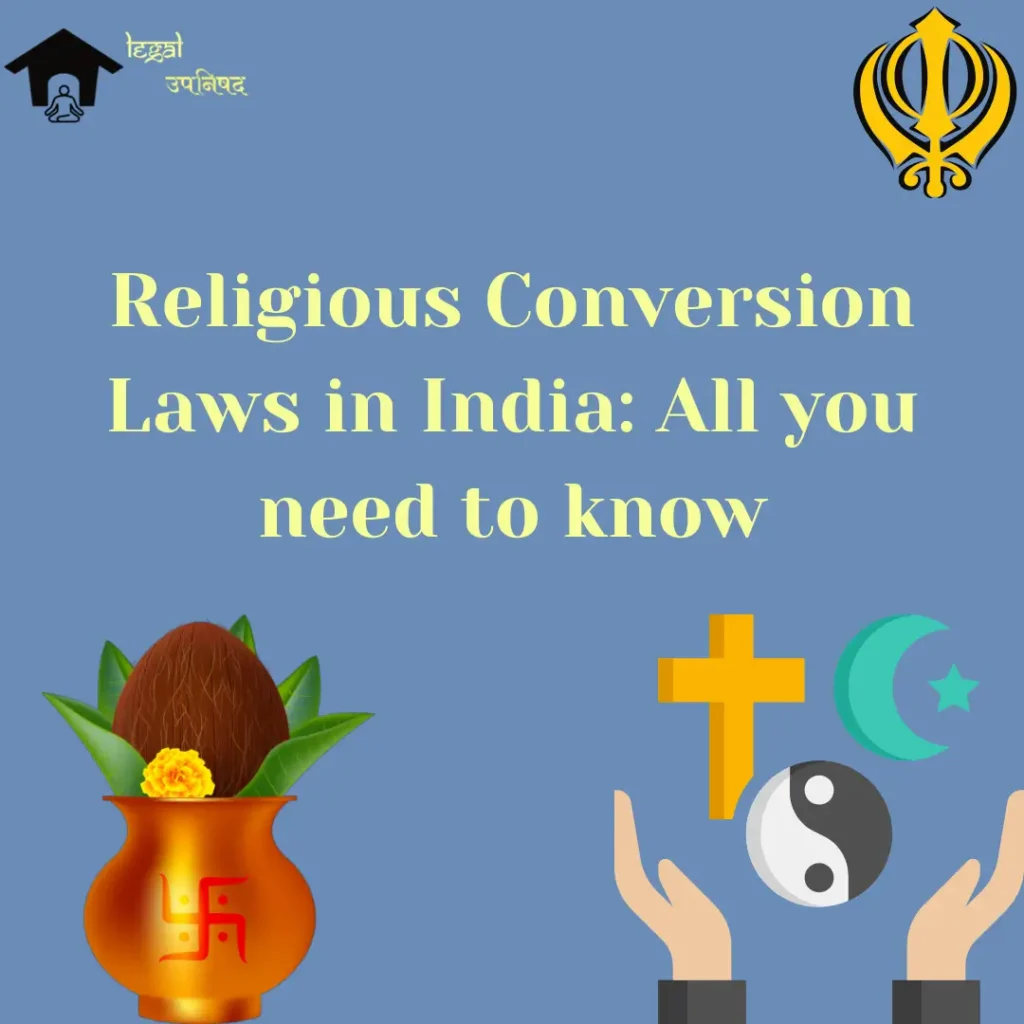 The review of religious conversion law:
The recent development in the religious conversion law in Uttar Pradesh and Madhya Pradesh focuses on the characteristics of the conversion of a person from his parental religion to another religion. This law does not prohibit the re-conversion of a person back to his previous religion (in UP), and parental religion (in MP) according to the definition.
Prerequisite for conversion to another religion a person who wishes to change to another religion is required to give notification of 60 days to the District Magistrate (DM) and also the people heading the conversion (religious ministers in MP, and religious converters in UP) are required to present the forward statement of the religious conversion to the District Magistrate.
While both the MP and UP laws forbid religious conversion which is done by misrepresentation, force, allurement, and undue influence. The burden of proof bears on the person giving rise to or motivating such conversion in UP, and the person responsible for leading to unlawful conversion in MP.
Complaints against such unlawful conversion can be registered by the suffered person of such conversion, her/his parent, and any other person blood-related. Section 6 of the UP law declares marriage void or invalid if it is done for the sole purpose of unlawful conversion; conversion takes place by force, fraud, misrepresentation, allurement, and undue influence; and religious conversion is not done according to the methodology prescribed in the statute.
Whereas laws regulating religious conversion in other states like Orissa were enacted to protect the tribal and other innocent peoples who are converted by the means of inducement, misrepresentation, fraud, and force. The Freedom of Religion Act, of 1968 criminalized such unlawful conversion and made it a cognizable offense with the punishment of imprisonment of up to one year, a penalty of up to 5,000 rupees, or both. Many other states also follow the footstep of Odisha's legislation and enacted laws in view of the perceived threat to indigenous religions and practices.
The term "inducement" means any offer or gift that is cash or giving any kind of benefit. The meaning of term "force" means showing force or any kind of threat. The term "fraud" means misrepresenting or any other fraudulent contrivance.
Constitutional challenge to anti-conversion laws:
Articles 25 to 28 provide fundamental rights to a person but they are subject to public order, health and morality. While Article 25 gives freedom of conscience; and freedom to profess, practice, and propagate. Propagate basically means to spread and promote an idea, theory, faith, etc. if we interpret this provision according to textualist interpretation then it actually means an individual has a fundamental right to promote his belief and ideas but the present anti-conversion laws contravene these fundamental right.
The anti-conversion law was the first challenge in the 1960s by were Supreme Court in the case of Rev. Stainislaus vs. State of Madhya Pradesh stated that although Article 25 grants to spread and promote one's religious ideas and its tenets Article 25 does not grant the right to convert other persons to one's own religion. The case was decided by the five-judge headed by the chief justice of India A.N. Ray the court also interpreted that there is no such thing as a fundamental right to convert any person and upheld the act.
Conclusion
Religion is a vital part of a person's life as it governs the spiritual life and beliefs of an individual. Articles 25 to 28 enshrine the freedom of religion and provide individuals a choice over their religion and belief system which truly reflects the principles of secularism.
The laws regarding religious conversion in various states do restrict some of the rights like propagation but it is subject to reasonable restrictions such as public order and morality. Religious conversion by the means such as fraud, inducement, force, misrepresentation, and undue influence thus disrupts public order, and the state has to maintain law and order and it can restrict such acts to maintain public order and peace.    
References: