This article on 'U.K. Supreme Court's Landmark Judgement on SEPs' was written by Monika Yadav, an intern at Legal Upanishad.
Introduction
In this article, we discuss the landmark judgment on the Standard essential platform popularly known as SEP in the context of the patent (intellectual property rights). We will discuss the background of the case and the issues connected with the same. In the end, we discussed the impacts of the judgment made by the English judicial system.
The ruling in the cases of Unwired Planet v. Huawei and Conversant Wireless v. Huawei & ZTE has just been released by the UK Supreme Court (UKSC). Two lengthy legal battles within the English judiciary have come to a close, resolving issues that are crucial to the telecom sector. Both cases included a clash involving the regional focus of patents as well as the international scope of the telecommunications regulatory framework.
Background
Organizations that develop standards define the technical requirements for the world's mobile networks, including 3G and 4G. An opportunity to involve in the standard-setting procedure, representatives of these institutions (like Cisco, Qualcomm, Nokia, Ericsson, Samsung, Huawei, or ZTE) offer up significant improvement toward a public platform. They seem to be using the patent tools to monitor that they are fairly compensated for their significant contribution.
In actuality, this entails accepting patent claims ahead of issuing suggestions for enhancements to a standard and then somehow, if such suggestions are accepted, providing licences here to eventually result in the patent(s) to telecom companies vendors or 'programmers' who intend to sell devices which meet the requirements with the criterion. The patents are referred regarded as "standard essential patents" since it is impossible to accomplish so without violating them (SEPs).
SEP licences must be granted upon FRAND (fair, reasonable, and non-discriminatory) grounds by participants of standards establishing an organization. In order to allow for a reasonable distribution of royalties, patents have however evolved into symbols signifying individual efforts to standardization.
In the real world, determining something is "fair," "reasonable," and "non-discriminatory" could be challenging. That's where the court system can help. As Unwired, Unwired Planet tried to impose SEPs over Huawei that they must have purchased through Ericsson; likewise, Conversant sued to recover SEPs over Huawei as well as ZTE that it must have purchased through Nokia.
Issues
Huawei previously contended in Unwired that the English authorities could only determine the criteria of a licensing covering UK SEPs which had already been determined for being legitimate and infringing. The UKSC ruling affirms as the English court system possesses the authority to enact as well as establish all conditions of worldwide FRAND licensing. When an implementer rejects such a license, then the judiciary may issue an injunction to prevent the violation of said UK SEPs.
Regarding Conversant, Huawei and ZTE have maintained that the Chinese tribunals will be a more appropriate venue for resolving any issue with Conversant than the English courts. The UKSC already affirms that the English courts would be in fact an appropriate venue, consenting with such a previous observation that "the Chinese courts do not, at existing, have authority to decide the conditions of a worldwide FRAND licence, at least in its absence of such agreement from all parties which they should do so."
Huawei claimed contended in Unwired that Unwired Planet had already granted it a license that was just as advantageous as the one had already granted to Samsung. The UKSC affirmed that perhaps the FRAND mandate only calls for "a single royalty price list accessible to everybody" and therefore does not forbid pricing differentiation, including giving the first implementer to acquire a licence a "first mover advantage."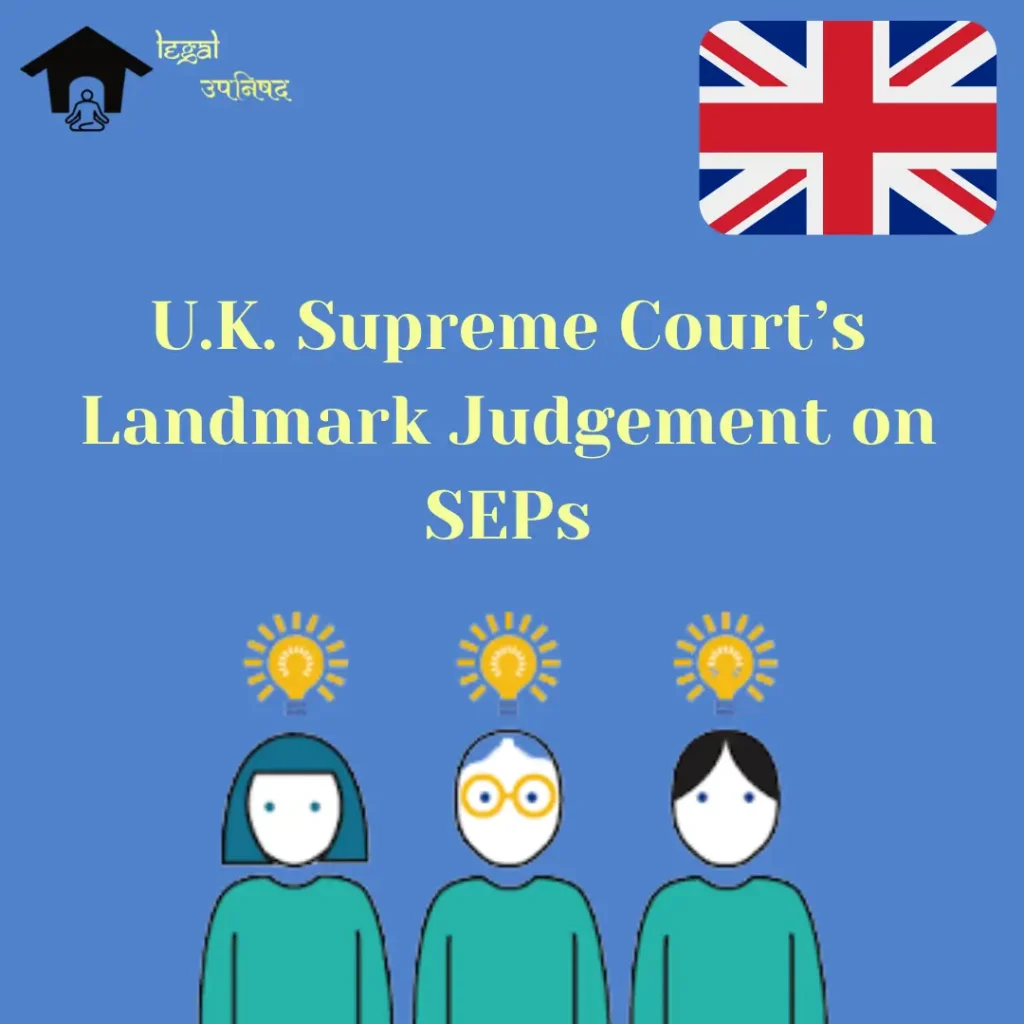 Optis vs Apple
This dispute arose as a consequence of charges brought by the non-practising business Optis and its associates PanOptis Patent Management and Unwired Planet LLC that Apple's iPhones infringe on their SEPs on 3G and 4G because they make use of the LTE wireless technology. After it was established that Apple might have "wilfully" infringed the patent lawsuits of Optis, the multi-jurisdictional issue was first adjudicated to Optis' benefit alone in a Texan tribunal on August 2020. As a consequence, $506 million in damages have been granted to Optis.
A retrial was ordered when US Judge Rodney Gilstrap reversed the Texas damage award in April 2021 and questioned whether the royalties had been paid in compliance with FRAND rules. On August 13, 2021, the judge issued $300 million compensatory damages to Optis and its affiliates in the retrial against Apple.
Subsequently, in 2020, Optis filed a claim against Apple in the UK based on the same SEPs. In June 2021, The London court held that Apple allegedly breached Optis' patent rights during the second of four technical trials. It further elaborated decision about the amount of FRAND royalties the iPhone manufacturing company should pay will apply internationally rather than just to its UK sales. The High Court would also determine whether Apple's behaviour qualifies it as an "unwilling licensee" in this case.
The High Court will hold an additional hearing in 2022 during which it will decide whether Apple must pay Optis the abovementioned level royalties rate on a worldwide basis. A crucial question in this is if Apple ought to be viewed as an involuntary licensee. Following UK judicial perspective, noncompliance out of a court-determined FRAND royalty amount is the primary criterion that could constitute Apple an unauthorized licensee under UK law; this conclusion is identical to the position taken by the CJEU in Huawei v. ZTE.
Mitsubishi & Sisvel v OnePlus, Oppo & Xiaomi
Sisvel is in charge of managing the Mobile Communication Program, or MCP, a collection of patents for cellular telecom services. Several of the patents were acquired by Sisvel, while other firms, notably Mitsubishi Electric Corporation, seem to be the owners of others. Mitsubishi and Sisvel attempted to convince the respondent and other implementers to acquire licences for the such portfolio at aspects they asserted to be FRAND, although they were unfruitful because the implementers declined to perform as such on the grounds that the patents have not been necessary towards the standards because Mitsubishi and Sisvel's proposal had not been made on FRAND concepts.
Three patent claims within portfolio, of which two were claimed by Mitsubishi and another by Sisvel, were allegedly violated, according to a complaint brought by Mitsubishi and Sisvel. As required by the court, separate trials will be held to assess the validity and importance of the patents as well as the FRAND of the licencing terms. A court in London presided by Mr. Justice Mellor managed to rule in June 2021 that the patents in question were valid and crucial to the LTE standard.
The hearing date for the court proceedings to ascertain the FRAND conditions for licencing the MCP pool was established for October 2021. Mitsubishi and Sisvel whereupon formed a fresh offer to obtain licences on FRAND aspects unless their infringement litigation were successful.
TQ Delta vs ZyXEL
In this instance, TQ Delta filed legal action against ZyXEL prior to Court on the grounds that ZyXEL had violated its SEPs and was infringing upon TQ Delta's intellectual property. These processes encompassed both technical concerns about the legitimacy, necessity, and violation of the patents at dispute and the licencing of such patents under fair and non-discriminating terms (RAND trial). ZyXEL did not agree to acquire a licence under any terms that the courts considered RAND.
Given that one of these patents is valid, the court determined, it significant, and violated in March 2019 at the technological trial, whereas the remaining patent was deemed to be incompetent. ZyXEL decided that obtaining an injunction will be preferable to taking the chance of a RAND license on world terms, so it agreed to waive its right to the same licence.
The patent which was noticed to be genuine, important, and invalidated lapsed in June 2019, or three months before the RAND trial, that was arranged for September 2019. The injunction was issued by the judge. ZyXEL asked the court to suspend the order, however, the judge denied their plea. Additionally, ZyXEL was not permitted by the court to challenge the order.
For maintaining the validity of its RAND claim, TQ Delta obtained declarations stating that ZyXEL would not be a voluntary licensee of its patents but that TQ Delta would be under no duty to extend ZyXEL any kind of licence. TQ Delta argued here that RAND trial was required because there was a current legal disagreement among the parties, but ZyXEL asked for the RAND trial to be dismissed because ZyXEL did not raise RAND also as defence.
The live conflict seen between parties over RAND aspects was resolved by Birss J in April 2019, allowing the court hearings to continue in September. Birss J also reached an agreement with TQ Delta. ZyXEL contested the judgement. Before July 2019 in the Appellate court, Floyd LJ referenced the rules from the Court of Appeal's decision in Unwired Planet v. Huawei and stopped the RAND trial. He further asserted that the Unwired Planet v. Huawei ruling did not indicate that a patent holder had an unbiased right to request the declaration of the applicable licence agreement again when the implementer has no desire to obtain the licence.
Additionally, he emphasised problems with TQ Delta's proposed declaration, such that ZyXEL weren't actually willing licensees and that there was no evidence of any external prosecution engaging RAND among the parties. Additionally, Floyd LJ ruled however that the conception of a voluntary licensee should not be a term of art that is accepted globally, and therefore RAND endeavour with redressal of patent infringement is not connected in a consistent manner. He continued by saying that additional ZyXEL companies would also need to be involved in the litigation in establishing RAND globally.
Additionally, he emphasised that a RAND trial could take up to 10 days and cost up to £4 million, which would be unreasonable given the court's limited resources. As a consequence, the RAND trial was cancelled.
Conclusion
This ruling solidifies the English courts' status as a major venue for patent disputes in the telecommunication sector. SEP holders can request the English authorities to set the parameters for a worldwide FRAND licence rather than attempting to compromise licences and claim their rights on a country-by-country basis, which would be very expensive. Consequently, a victory for SEP holders.
Although English courts could decide here on the legality or violation of these international patents, implementers would be concerned as English courts could establish parameters regarding licenses that include both UK and international patents. The UKSC recommended that implementers "retain the right to contest those patents or a sampling of such patents in the relating to foreign courts and to ensure that the license offers a procedure to adjust the royalty rates as a result" in order to avoid this insecurity.
The stability this ruling now offers throughout this difficult field of law will certainly be welcomed by SEP holders as well as implementers as well as telco suppliers that frequently have opposing positions. Meanwhile, whether the court system in those other countries will respond to England explicitly positioning itself as being a worldwide platform for determining royalties is still up in the air.
References