This article on 'Supreme Court's Abortion Judgement with special reference to Medical Termination of Pregnancy (Amendment) Bill, 2020' was written by an intern at Legal Upanishad.
Introduction
One of the most contentious issues in the field of biological ethics until now is abortion. There are a lot of opposing viewpoints on this topic's legality that have been expressed throughout the world. The issue at hand is whether it is covered by the Indian Constitution or if it does not meet the requirements to be recognised as a fundamental right. Abortion, which is defined as Causing Miscarriage in the Indian Penal Code of 1860, is seen as a punishable offense. It is about a "lady who intentionally miscarries."
In addition to numerous other rights, women in India now have Equal weight must be given to the right to an abortion and the right to become pregnant and have a child.
Article 21 of the Indian Constitution clearly covers the right to an abortion, the right to a dignified existence, and the freedom to make decisions, excluding any interference with the rule of law. The right to life and personal liberty is guaranteed to every individual in India, with the exception of circumstances prescribed by law, according to Article 21 of the Indian Constitution. As with any other Indian citizen, the woman who has an abortion has the same rights to life and the freedom to decide what she wants to do with her body.
A foetus isn't a real human being either, according to a key scientific tenet. The main target populations in this sector are women like unaware teenagers, sex workers, women carrying abnormally shaped kids, or women whose contraceptive procedures went awry. According to the Indian Constitution, abortion must be legalised for these certain populations.
History
After seeking advice from several experts, doctors, consultants, and other ministries, Dr. Harshvardhan Goyal of the Ministry of Health and Family Welfare introduced the Medical Termination of Pregnancy Bill 2020 in the House of People on March 2, 2020. This Bill modifies the Medical Termination of Pregnancy Act of 1971, which addresses permissible and legal abortion. The proposed Bill also sought to alter several of the Act's rules and regulations to improve its effectiveness.
The Bill also sought to extend the legal window for abortions from 20 to 24 weeks, allowing women to safely and securely end an unwanted pregnancy. It also intends to enhance safety measures, gestational age, and privacy protections for pregnant women.
Supreme Court's Recent Judgement
The idea that marriage is a requirement for a person's rights is being discredited by law in the modern era. The MTP act must consider current circumstances and not be constrained by outdated conventions. The court said that laws "must not be static and must take changing social circumstances into account.
All women have a right to safe and legal abortions, according to a ruling by the Supreme Court today. All Indian women, according to the supreme court, have the freedom of choice, and the Medical Termination of Pregnancy Act gives unmarried women the right to an abortion (MTP). According to India's top court, the abortion law would not distinguish between married and single women. Rape will also be considered marital rape for abortion purposes.
The Supreme Court declared on Thursday that unmarried women are also entitled to seek abortions in the period of 20 to 24 weeks resulting from a consensual relationship. This is a significant ruling.
It also referred to the MTP Act's exclusion of unmarried women who conceive as a result of a live-in relationship as "unconstitutional."
"The idea that marriage is a need for a person's rights is being abandoned by the law in modern times. The MTP act must consider current circumstances and not be constrained by outdated conventions. The court said that laws "must not be static and must take changing social circumstances into account. The third most common cause of maternal death is still unsafe abortions.
In India, unsafe abortions account for 60% of all procedures. Restrictive abortion laws result in unsafe abortions by preventing access to safe abortion services, it said, adding that married women may also fall within the category of survivors of sexual assault or rape. Non-consensual sex with her husband may result in a woman becoming pregnant.
The Supreme Court also ruled that registered medical petitioners are not required to reveal a minor's identity if she files a POSCO Act abortion request. The question is whether Rule 3B of the MTP statute validly excludes unmarried women who became pregnant through a consensual relationship.
Sexual assault and rape survivors, minors, women who experience a change in marital status, such as widowhood or divorce, during pregnancy, physically disabled women, mentally ill women, and for a foetal malformation that poses a significant risk of being incompatible with life are just a few of the groups of women whose pregnancies may be terminated between 20 and 24 weeks, according to Rule 3B.
The regulation would promote the stereotype that only married women engage in sexual activity, according to Justice Chandrachud, the court's presiding justice, and that is not constitutionally viable. According to the court, married and single women have equal access to the right to reproductive autonomy. It's interesting that the ruling was issued on International Safe Abortion Day. Justice Chandrachud was informed by a lawyer and stated, "It never occurred to me that this would fall on Safe Abortion Day".
The case that was being heard included a 25-year-old single woman who went to the Delhi High Court to ask to have her 23 weeks and 5 days pregnant. She said that despite having a consenting relationship with her partner, he had declined to marry her. The high court noted that none of the sections applied to unmarried women who become pregnant through consensual relationships.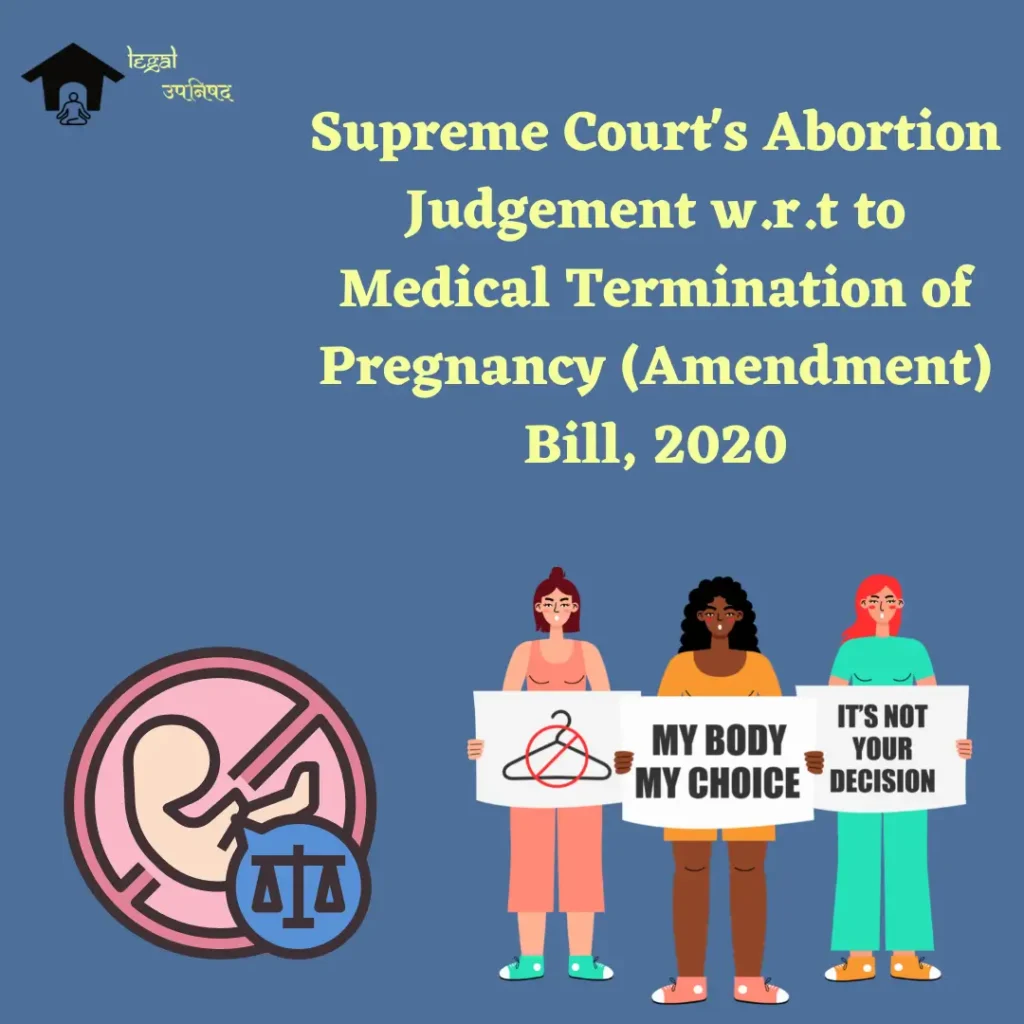 Suggestion
Earlier a decision was taken by the Central Government which balances the cultural diversity, belief systems, and conceptual frameworks that our country upholds, after so many amendments still leave women with a number of restrictions, many of which act as barriers to obtaining a safe abortion. But this judgment will save the lives of many women as well as girls. The important thing which we all need to do – aware of each and every female individual about their legal right.
Conclusion
The Medical Termination of the Pregnancy Act, 2021 offers some hope to those who want to legally end their unintended pregnancies as well as to women who desire access to safe abortions. India still has to take additional steps to limit and ultimately eradicate the practice of illegal abortions. In order to permit the termination of pregnancies, the government must ensure that all professional standards and laws are upheld countrywide in hospitals and other healthcare facilities.
In addition, the debate over abortion needs to be resolved in a way that respects human rights, sound scientific theory, and technical advancements. The success or failure of the Medical Termination of the Pregnancy Act, of 2021 will depend on the methods and processes used to carry out the regulations it contains. Only if they are carried out with the required thoroughness and care might these ideas help women who want to abort.
Contrarily, more women will have direct access to safer pregnancy termination services prevailing, and those who need to stop a pregnancy will be treated with justice, respect, and liberty.
List of references:
Apurva Vishwanath, "Supreme Court's abortion ruling", Indian Express, 30 September 2022, available at: https://indianexpress.com/article/explained/supreme-court-women-abortion-ruling-8181347/
Jahnavi Sindhu and Vikram Aditya, "How the Supreme Court's Abortion Judgment Strengthens the Right to Autonomy", The Wire, available at: https://thewire.in/law/how-supreme-courts-abortion-judgment-strengthens-right-to-autonomy
"No discrimination: On Supreme Court's abortion ruling", The Hindu, 1 October 2022, available at: https://www.thehindu.com/opinion/lead/no-discrimination-the-hindu-editorial-on-supreme-courts-abortion-ruling/article65955828.ece#:~:text=The%20Supreme%20Court's%20ruling%20holding,the%20law%20and%20its%20practice